Five in a row for Bridgestone in Thailand's 'TAQA' awards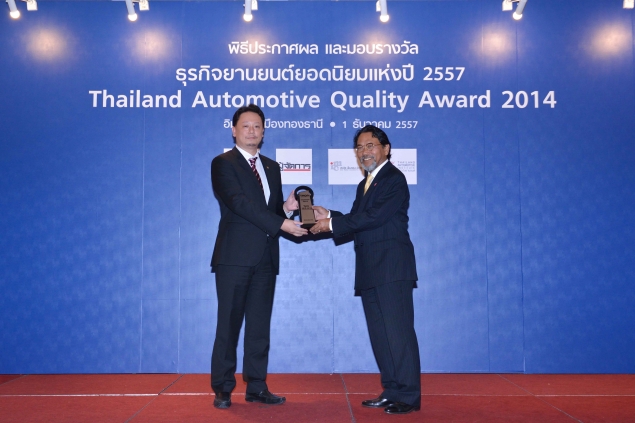 On 1 December, Bridgestone Sales (Thailand) Co., Ltd was recipient of a 'Thailand Automotive Quality Award' (TAQA) – Outstanding Satisfaction for Tyre' award, a distinction given only to companies who have received a TAQA award for five consecutive years. The award was presented by Pramode Vidtayasuk, Thailand's Vice-Minister for Industry, at a ceremony in Bangkok.
Held annually since 2002, with awards for the car accessories segment introduced in 2010, TAQA is a joint public-private sector initiative that aims to improve the overall performance of products and services within Thailand's automotive industry. Awardees are decided through a nationwide customer satisfaction survey. This year, 5,800 car owners participated in the survey.
"We are honoured to be recognised by consumers that Bridgestone provides products and services of superior quality," commented Hiroshi Yoshizane, director of Consumer Products Group, Bridgestone Sales (Thailand) Co., Ltd., after receiving the award. "Our commitment to customers is that Bridgestone will continue to provide the best products and services possible, while striving to serve each and every customer as an individual with unique requirements."