Three new air tools from Chicago Pneumatic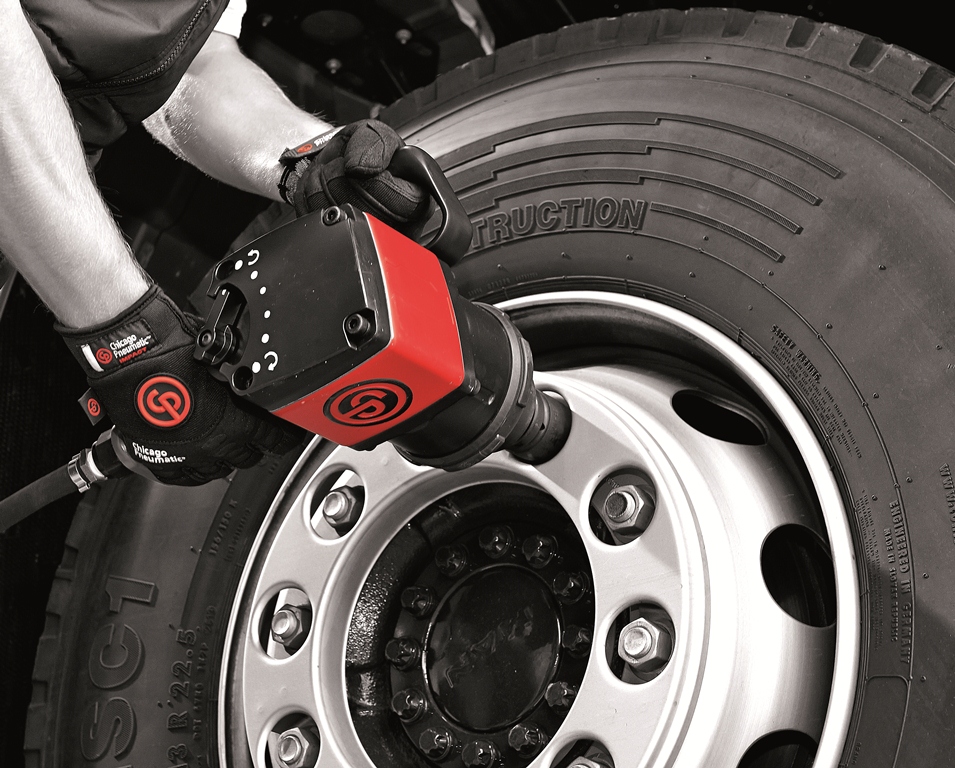 Chicago Pneumatic has launched three powerful new air tools that aim to enable service professionals to increase productivity in the workshop. The manufacturer says the new CP7748TL and CP7776 impact wrenches are comfortable and easy to use, while the new generation CP7749 – which it calls "ultra-compact" – is said to deliver the best power-to-weight ratio in its class.
The CP7748TL ½" composite Torque Limited impact wrench is primarily intended for passenger vehicles, light truck, and SUV tyre changing applications. The torque limited function enables efficient torque level control for each tyre-change job, and enables the user to quickly and easily snug bolts without over tightening and damaging studs. The operator must then use a torque wrench to torque bolts to the manufacturer's specifications.
The CP7748TL is designed to provide a limited amount of torque in the forward position (approximately 60 ft-lbs. [90 Nm] in one second of operation) and boasts 925 ft-lbs. (1250 Nm) of maximum torque in reverse for removing weathered and stubborn lug nuts. The forward/reverse switch is smooth and easy to use with only one setting position in both directions. The tool also features a contoured grip handle with a thermoplastic rubber (TPR) grip to provide better comfort to the operator.
The new CP7776 1" metal pneumatic impact wrench offers high power and durability for general mechanics and tyre changing on heavy vehicles and trucks. Designed in response to customer demand for a robust wrench with an easy-to-hold pistol-style handle, the cost-effective CP7776 delivers high power, with 1770 ft-lbs. (2400 Nm) of torque in reverse. The ergonomic forward/reverse regulator with three position power settings and a full teasing trigger mean the wrench is exceptionally user-friendly. Additional features including a TPR grip, a rotating side handle, and an angled-down exhaust that blows air away from the operator also provide greater comfort.
The new CP7749 lightweight and high power ½" composite impact wrench delivers 955 ft-lbs. (1300 Nm) of true maximum torque in reverse and weighs just 3.95 lbs (1.8 Kg). Its design of only 6.7" (171 mm) in length enables operators to easily work in difficult-to-access areas while providing enough power to remove the most stubborn fasteners in any vehicle service application.
In addition to power, Chicago Pneumatic says the CP7749 features great ergonomics. Only one hand is needed to control both the power and the forward/reverse selectors. The easy-to-use side-to-side forward/reverse system, two-stage trigger and speed regulator provide greater operational control. The CP7749 is ideal for all general workshop and mechanic applications, including work on the chassis, transmission, engine and exhaust.
"With the launch of these three new powerful impact wrenches, we can now offer our customers a complete solution for all of their tooling requirements," says Luis Clement, vice-president of Chicago Pneumatic Tools. "At Chicago Pneumatic, we're dedicated to helping our customers improve their productivity, and they can continue to rely on our powerful and durable tools to enable them to carry out their day-to-day tasks more comfortably and efficiently."