Launch for next step in Goodyear's young driver education programme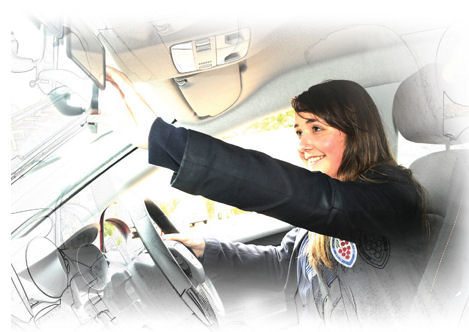 Goodyear has produced a free young driver education toolkit for teachers to use across the UK. Primarily aimed at KS3 and 4 for use during PHSE lessons, 'The Driving Academy' toolkit focuses on teaching students about driving, driving theory and the importance, seriousness and responsibilities that go with it. The pack is supported and endorsed by the Driving Instructors Association (DIA) and includes an interactive video, lesson plans and work sheets, online driving simulator and competition opportunity. It is designed to be flexible and scalable to be delivered at different levels according to a school's needs.
This new toolkit represents the next step in Goodyear's campaign to educate youngsters on road safety, driving theory and the road rules well ahead of them getting behind the wheel at 17. Since 2012, Goodyear has focused on educating youngsters on road safety and driving by touring schools around the country teaching them about the Highway Code through an interactive online tool and giving them practical driving experience using dual controlled cars in the school playground. The tyre maker says the programme has been very well received by teachers and pupils alike and gave many schools an opportunity they never thought they would receive.
For the 2014/15 school year, Goodyear's aim is to reach as many young people as possible with this important education. By partnering with Kids Connections, a specialist agency who produce campaigns which connect with young people, their families and education establishments, Goodyear states it has been able to develop an extensive programme for use in hundreds of schools which is proven and tested by teachers, for teachers.
Kate Rock, spokesperson for Goodyear said: "We have listened to the feedback from teachers on our programme and using this feedback we have been able to produce an easy-to-use toolkit for teachers across the UK.
"Driving is one of life's key skills however young drivers account for a large percentage of accidents on our roads," Rock continued. "Our aim is to try and combat this by introducing driver education to youngsters much earlier and the toolkit we have created in the form of our Driving Academy does just that. We are pleased and proud that it is fully endorsed and supported by the DIA.
"We will send this toolkit to over 6,000 schools across the UK and want to make the resources available to as many teachers as possible so that we can ensure our youngsters of today are better prepared to get behind the wheel and on our roads."
Any school that hasn't received the toolkit can download it from Goodyear's website.