Groundbreaking held for Continental's performance tyre, technology facility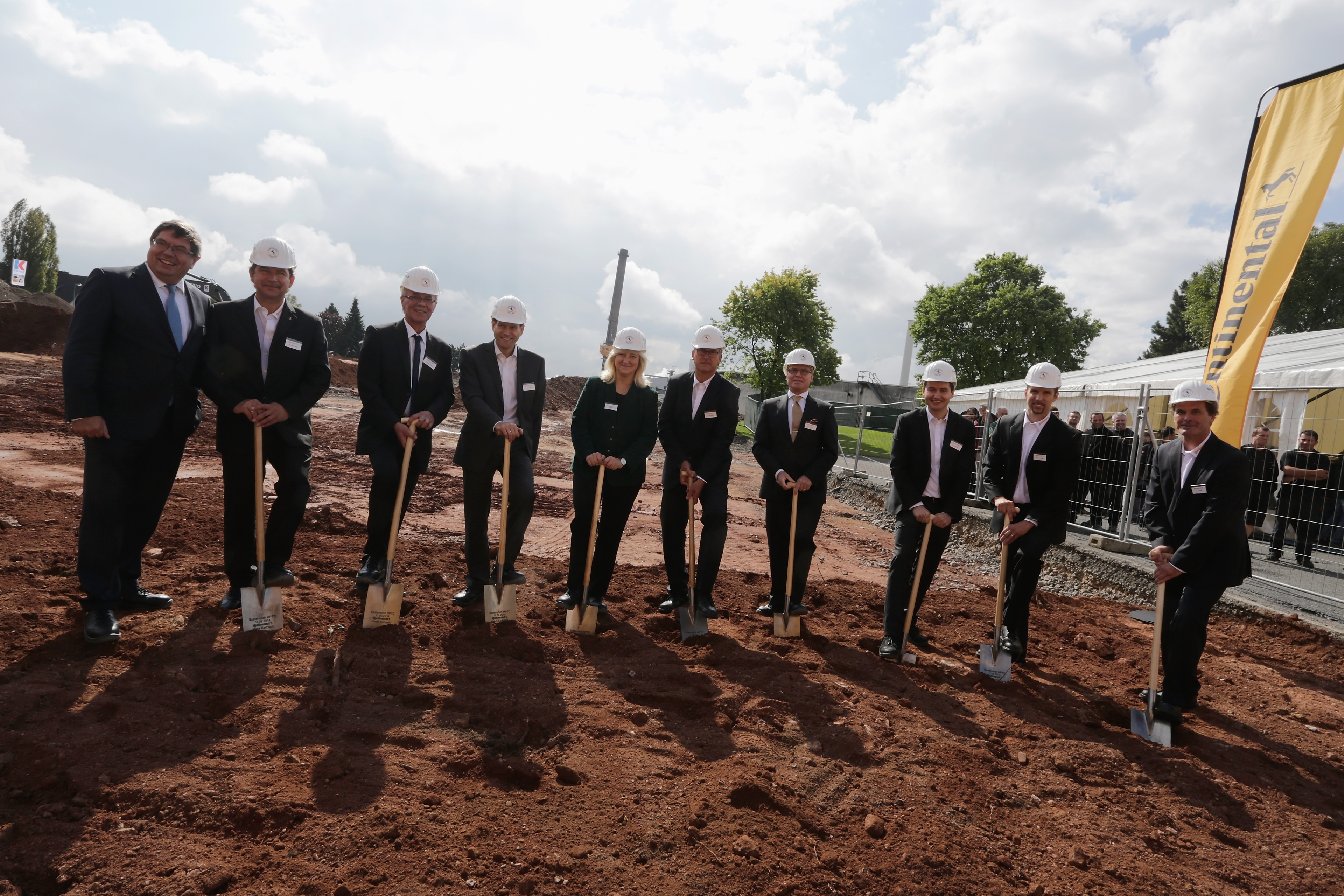 Yesterday, Continental officially broke ground on its new High Performance Technology Center (HPTC), a new "factory within a factory" at the company's Korbach plant in Germany. The HPTC is being erected on a 12,000 square metre site and the building is expected to be completed by the end of May 2015, with operations at the completed facility scheduled to begin in July 2016.
The HTPC will fulfil two main functions: It will produce high-performance tyres for supercars and other powerful sports cars, and will also drive forward the development and optimisation of production processes that will be first trialled in Korbach prior to their subsequent introduction into other Continental tyre factories.
"The groundbreaking ceremony marks not only the start of work on a new production line, but also effectively the extension of our research and development department into the Korbach tyre plant," states Nikolai Setzer, head of Continental's Tire division and member of the Continental AG Executive Board. "We are investing a total of €45 million here. This not only enables us to introduce technological upgrades for production of ultra-high-performance tyres, it also allows us to show our OE customers we are acting in their interests by pushing ahead with technological advances so we can offer even better products in the future. The process expertise we gain as a result will be channelled into all our tyre plants and product lines."
Around 60 employees will work in the new facility. The project involves a €45 million investment, a higher amount than originally earmarked for it. Continental says the budget was increased by around €5 million in order to give the new facility even greater capability. "The HPTC is part of our Vision 2025 initiative, which encapsulates our commitment to profitable worldwide growth," adds Setzer. "As well as raising capacity for the production of technologically ultra-sophisticated tyres, this demands above all extra investment in research and development." Continental's worldwide 'special investment' programme, launched in 2011, will see its investment top one billion euros by the end of 2015. Tire Division projects implemented in recent years include the Automated Indoor Braking Analyzer (AIBA) indoor tyre testing facility at the company's proving ground in Germany and the ContiLifeCycle truck tyre retreading and rubber recycling plant at the company's Hanover-Stöcken facility, also in Germany.
According to Korbach plant manager Lothar Salokat, work will start at the HPTC on a test basis next September: "We're expecting to be able to produce around 350,000 tyres annually at the new HPTC once regular operation is underway," he says. "We're talking in part about products for highly exacting requirements – i.e. for ultra-powerful vehicles. They include tyres with diameters of 18 to 22 inches." In addition to this production output, the HPTC will conduct trials on a range of different compounds and production stages. The plan is to use the tyres produced as part of this process for testing purposes. "So the new facility will not only benefit the drivers of extremely exclusive vehicles, but also the safety of all other road users."
The Korbach site was established by Louis Peter AG in 1907 and became a Continental plant following Louis Peter's acquisition by Continental in 1929. It currently has a workforce of around 3,400 employees. "Some members of our team are the fourth generation of their family to work for Continental in Korbach, and our employees have amassed impressive reserves of knowledge and experience," comments Korbach shop chairman Jörg Schönfelder. "We're delighted and, indeed, proud, to be able to channel such expertise into this excellent project as we move forward. We also view this large-scale investment as a logical extension of our agreements safeguarding the future of our plants. This shows that Continental is also investing in facilities in our native Germany, and is therefore able to make a major contribution across our network of plants around the world."