Continental chooses site in Thailand for new APAC region tyre factory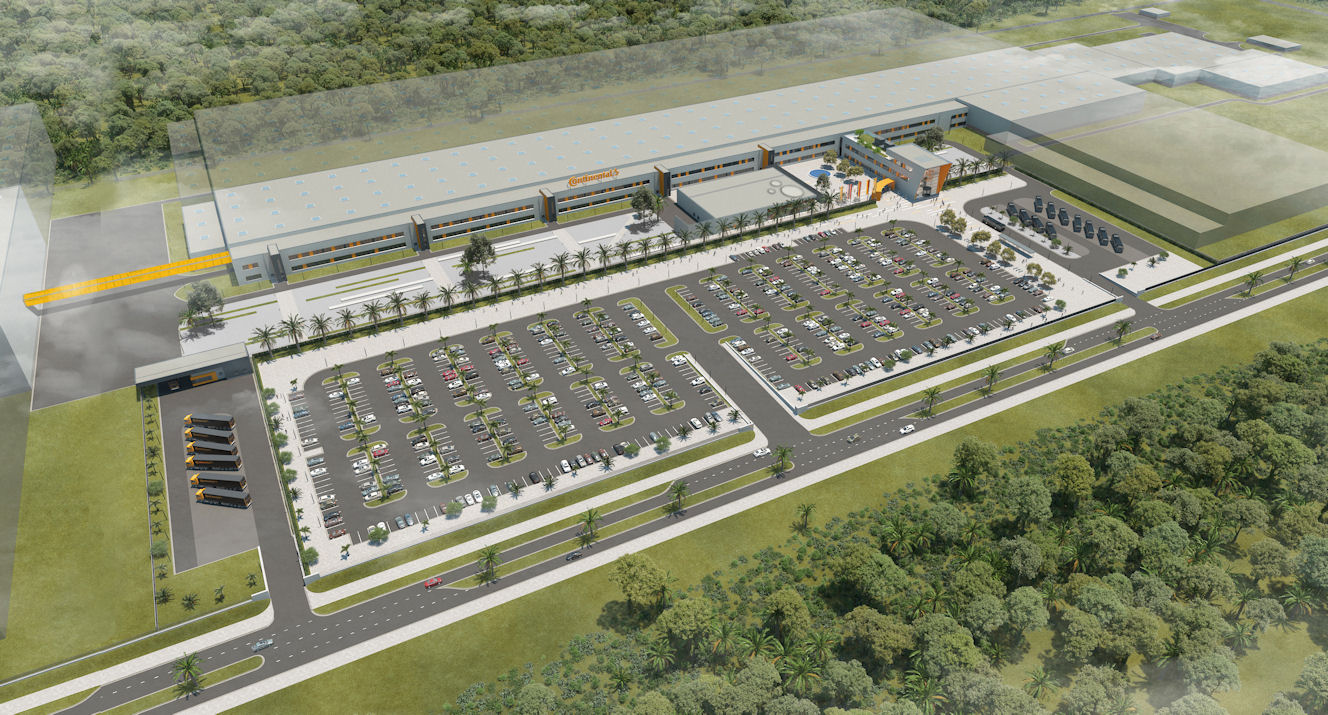 Thailand has been selected as the location for the new passenger car and light truck tyre factory that Continental AG has planned for the Asia Pacific (APAC) region. Groundbreaking at the 750,000 square metre site in Rayong Province later this year will mark the start of work on phase one of a project that will require an investment of approximately €250 million by 2022 and give the factory a planned production of around 4 million tyres per annum within the same timeframe. Operations are expected to begin in 2019.
"The investment in Thailand is another major step in realising the ambitious growth plans of our Vision 2025 by further improving the balance of our global manufacturing footprint and enhancing our position as one of the technologically leading tyre manufacturers worldwide," states Nikolai Setzer, head of Continental's Tires division and Executive Board member in charge of Corporate Purchasing. "One important pillar of our long-term strategy is to operate with an agile and flexible set-up that enables us to react fast to the market requirements, establish further production capacities in the growth region APAC and to strongly support our Asia Pacific growth plans with high-tech production capabilities."
"With the decision to build our new tyre site in Thailand we will strengthen our presence in both the Thai market and the rest of the APAC region," adds Philipp von Hirschheydt, executive vice-president of Continental's Replacement APAC PLT business unit. "This plant will strongly support our planned business growth in both original equipment and replacement business for passenger and light truck tyres and further establish our customer relations in both segments. We want to benefit from the growth potential in this region in the replacement market and are confident that our local production will also enable a closer cooperation with new customers to further extend our position in these markets."
Continental states that the site chosen for the new plant "complies with all requirements." It is located some 85 miles from Bangkok and 35 miles from the deep sea port of Laem Chabang, in a region offering a good infrastructure and close to "targeted markets and customers." Universities with "a technical profile" are also situated in the local area. The site offers scope for further expansion, and Continental foresees growth that ultimately allows for up to 25 million tyres a year to be manufactured there.
"The site selection process is very complex, where we have to take into account not only the proximity to the markets and our customers, several infrastructure elements but also the workforce available as well as educational institutions which will support us to recruit the best skilled employees," shares Michael Egner, project manager Greenfield APAC. "The Thailand government as well as several local institutions have been a very supportive partner during the entire selection process, therefore we want to express our sincere appreciation. Now we are looking forward to a fruitful and successful long-term cooperation."
Continental currently operates five tyre plants in the APAC region: Hefei (China), Alor Setar (Malaysia), Petaling Jaya (Malaysia), Modipuram (India) and Kalutara (Sri Lanka). Once the plant in Thailand and Continental's greenfield commercial vehicle tyre factory in the USA have entered service, the company's manufacturing footprint will include 21 facilities in 17 countries.