Continental begins equipping new Thailand tyre plant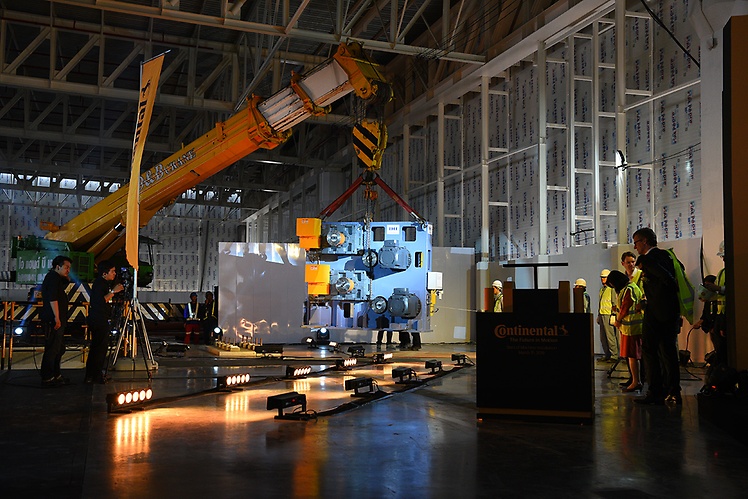 It's only been four months since the foundation stone for Continental's new tyre factory in Rayong, Thailand was laid, yet good progress has already been made. On 15 March the first machine was installed within the plant, an occasion celebrated by some 180 guests, Thai officials, as well as Continental management and representatives from the local project team, suppliers and dealers.
Weighing more than 13 tonnes and almost 100 metres long, the calendering unit installed last week is one of the largest machines that will operate within the new factory. Continental is now preparing for the on-time installation of further equipment and completion of civil works ahead of next year's official start of production. The company is investing 250 million euros to give the plant a capacity of four million tyres per annum and a workforce numbering around 900 in the first phase of the project, which covers the period until 2022. The site allows for a potential capacity expansion of up to 25 million tyres a year.
Addressing guests at the installation ceremony, Nikolai Setzer, head of Continental's Tire Division, noted that "the investment into the Greenfield tyre plant in Thailand is an integral part of our growth strategy called Vision 2025." He added: "The combination of innovative German engineering combined with local Thai production capabilities ensures the highest quality tyre manufacturing that Thai and Asian consumers are looking for, thus fulfilling our philosophy of 'In The Market, For The Market'. The pace at which infrastructure development is happening on the Eastern Seaboard is encouraging for us. Therefore, we would like to thank the Thai Government, the Ministry of Industry and the Thai Board of Investment for the support given so far."
According to Continental, the facility now being set up in Thailand will have the best in class energy efficiency standards of its global tyre manufacturing network. All machines are equipped with technology for sustainable production processes. Higher automation of logistics and handling processes will ensure an ergonomic work environment for future employees.
"The greenfield tyre plant in Rayong is the seventh greenfield that is ramped up since 1998, and expands the current global manufacturing network of Continental's Tire Division of 19 tyre plants in 16 countries to 20 plants in 17 countries in 2019," said Bernhard Trilken, senior vice-president Manufacturing PLT and Tire Logistics. "We bring not only new technologies, but also our corporate people culture to Thailand, represented by our globally valid core values 'Trust, Passion to Win, Freedom to Act, and For One Another'. Continental plans to be a leading employer in the Rayong region, too. To achieve this status, we will be spending about three million Euros (117 million Thai baht) in training our employees from Rayong. They will be trained at various Continental tyre factories in Europe and Asia to ensure an excellent knowledge exchange. And furthermore, we are working on partnering with educational institutions in the region to identify and develop our future talents."