Manchester United 'legend' to appear alongside Federal Tyres at Moscow show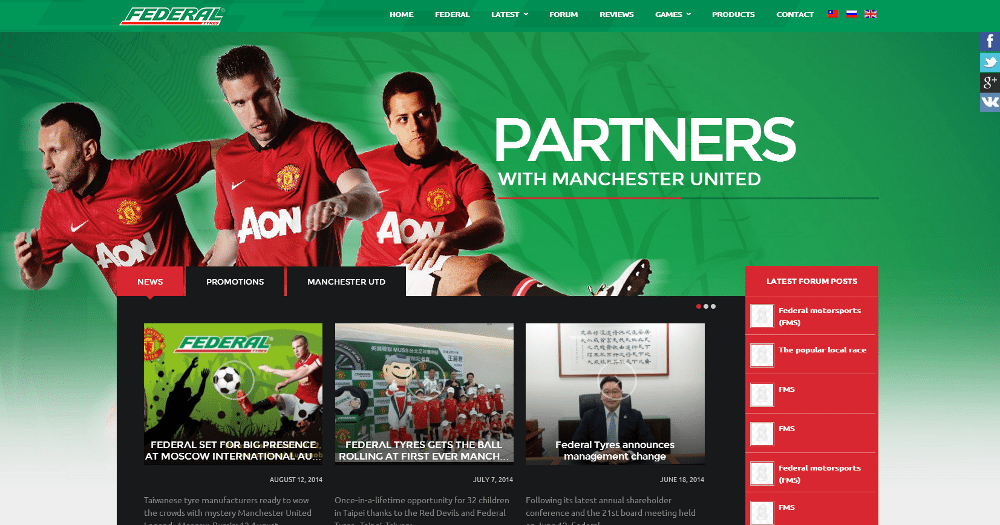 Federal Tyres is hoping the allure of the world's most famous football club will contribute to its success at one of Russia's biggest motor shows, the Moscow International Automobile Salon (MIAS). A mystery "Manchester United legend" will join Federal on its interactive exhibition space at the show, continuing its United-themed marketing campaign in the region. The brand is also to run a competition through its online channels to win a Manchester United shirt signed by the first team in the run up to the event. The manufacturer has been the Official Tyre Partner of Manchester United in Russia and its domestic market, Taiwan, since August 2013, engaging in activities such as the Manchester United Soccer School programme and harnessing the club's brand equity to target the Russian market, in which it hopes to build a significant presence by 2019.
Federal says that MIAS is expected to attract over one million guests from 27 August to 7 September, and it intends to use the international automotive industry gathering to continue building awareness among partners and end users in the Russian market. The stand will include a display of the latest Federal products set to hit Russia this autumn, plus activities like table football, a photo booth, Sphero racetrack and wheel of fortune with daily prizes to be won. Federal will also be hosting a 60th Anniversary Celebration at the stand on 30 August.
The star attraction, though, will be the yet-to-be-named Manchester United Legend, who is set to appear at the Federal stand on 30 and 31 August. Federal are confident that the presence of a bona fide football icon will help the Taiwanese tyre giants connect with as many potential customers as possible. Federal will also run an online competition to win a shirt signed by the Manchester United first team by guessing the identity of the Manchester United Legend in the build-up to MIAS.
Federal Tyres marketing manager, Geoffrey Chang, said: "MIAS is a really important milestone for Federal Tyres. 2014 has been a very successful year for us so far, and we want to build on that success with a big statement to our partners and potential consumers in Russia.
"Our sponsorship of Manchester United is really helping us to build awareness in the Russian market already, and a prestigious event like MIAS gives us a great platform to go beyond awareness to real customer engagement. We are delighted to be participating and we are putting everything into our preparations.
"I can't wait to meet our Manchester United Legend. He is a really inspirational figure. The way he played the game, his consistency, his loyalty, not to mention his success – it all makes him an all-time great of the game and an excellent role model. I have no doubt that the people visiting MIAS are going to be just as excited as I am."
To be in with a chance to win a Manchester United shirt signed by the entire first-team squad for the 2013/2014 season, Federal instructs readers to check out the clues posted every Monday and Friday on the Federal Tyres website, Facebook page, VK page and Twitter feed. To enter, write the name of the Manchester United Legend on Federal's walls or tweet them using the hashtag #AwakenTheChampion. Correct answers will be entered into the prize draw, with the winner announced on Monday 25 August.