Charity motorcycle trek on schedule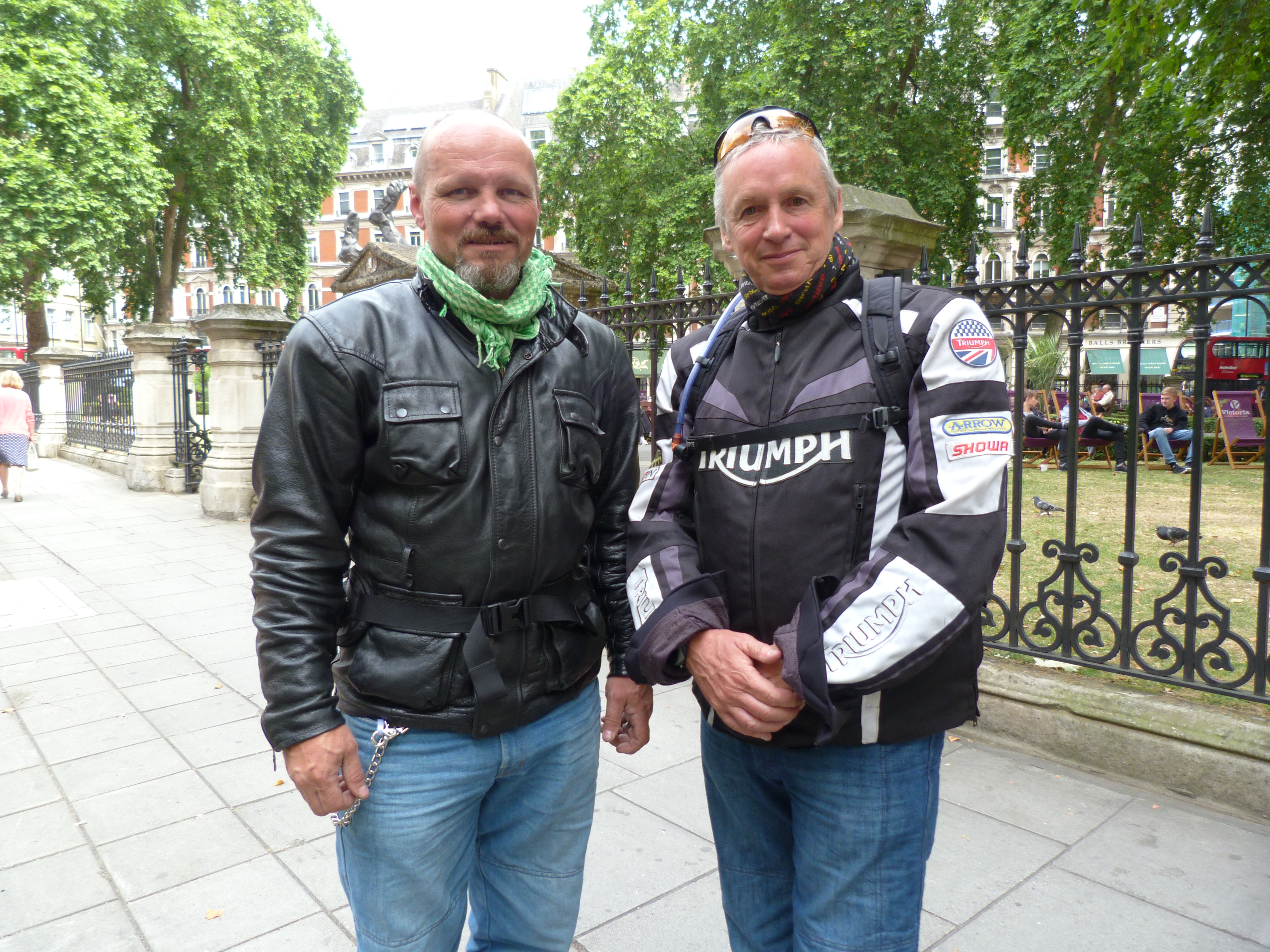 Two British former soldiers from Birkenhead are well on the way to completing their epic European motorcycle trek in aid of three charities close to their hearts. Harry Glover, 49, and Pete Bray, 58, have completed nearly 5,000 miles of their gruelling 15,000-mile (24,140km) expedition under the code-name 'Triumph Over Tragedy', aiming to become the first to reach 26 European Union capital cities on motorbikes.
The aim of their trek is to raise awareness and funds for the Armed Forces charities BLESMA and Soldiers off the Street, along with the Alder Hey Children's Charity.
Former non-commissioned officers Harry Glover, of 4/73 Special OP Battery, and Pete Bray, of 22 SAS, have already passed through 16 of their planned EU capital cities since setting off from London's Buckingham Palace on Friday 1 August 2014.
Harry Glover said, "We've been covering 600 miles a day to get to where we are, sleeping on the streets and living out of our kit bags.
"We've already encountered all types of terrain and almost everything Mother Nature can throw at us in terms of weather.
"However, to complete a third of the distance already is a fantastic achievement."
BLESMA provides ex-soldiers with valuable help and support, giving them the tools needed to regain their independence following the loss of limbs.
Soldiers off the Street provides food, shelter and other support for vulnerable soldiers of all ages who have returned from active duty and are in need of assistance in getting back on their feet.
The initiative also takes on a more personal note for Harry Glover, whose young daughter will undergo life-changing surgery in the autumn with the support of Alder Hey.
It is for these reasons that Harry Glover and Pete Bray have taken on the arduous trek, which has seen them cover an average of 600 miles a day while battling adverse weather conditions, poor roads and mechanical failures.
As former servicemen, both riders have first-hand experience of the dangers of combat and the struggles that soldiers can face when they return from service.
The audacious expedition has been funded solely by the guys themselves, along with support from their friends and families.
Harry Glover said, "Riding knowing that we are working on behalf of such noble charities is making all of the hardship of the trek worthwhile.
"The work done by BLESMA, Soldiers off the Street and Alder Hey is making sure that as many people as possible get a second chance in life.
"I would strongly urge people to help us by making donations of any size to these fantastic organisations."
When the duo return home at the end of August, they are looking forward to organising talks and events where they can share their experiences and unique insight into unified Europe.
When not taking on challenges, Harry Glover and Pete Bray are directors of a security and training firm, Primarius Ltd., which is based in Birkenhead, The Wirral, UK.
You can follow the route taken by the riders live on the Triumph over Tragedy website at http://triumphovertragedy.co.uk/route/.
Since setting off on Friday 1 August 2014, Harry Glover and Pete Bray have reached London, Paris, Brussels, Amsterdam, Berlin, Copenhagen, Stockholm, Helsinki, Tallinn, Riga, Vilnius, Warsaw, Prague, Vienna, Bratislava and Budapest.