Hungarian union holds Hankook Tire demo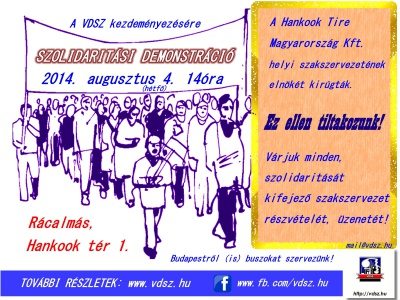 Yesterday the Federation of Chemical Workers of Hungary (VDSZ) held a demonstration against Hankook Tire Hungary Ltd. and what it views as the tyre maker's harassment of union officials at its plant in Rácalmás. The VDSZ called upon other unions and workers to display solidarity by attending the protest.
As many as 300 people attended the demo and were told by VDSZ representative Tamas Székely that Hankook Tire Hungary had dismissed two elected union officials in the past year, while a further four had resigned from their jobs. Székely added that the union had proposed discussions with the tyre maker on upholding workers' rights and the cessation of "unlawful" activity, however he said "no-one came out here from Hankook to commit in public to cooperation."
One of allegedly dismissed union officials is Istvan Bognar, who told Hungarian news agency MTI he was let go "on unfounded charges of non-cooperation and misleading company officials." He added that he was taking legal recourse for what he says was his "illegitimate dismissal." A statement issued by Hankook indicates that Bognar's dismissal was a labour issue rather than a political one. "Hankook has never terminated the employment of any trade union member or official because they were a union member," the statement reported.