European launch for Mitas SFT tyre line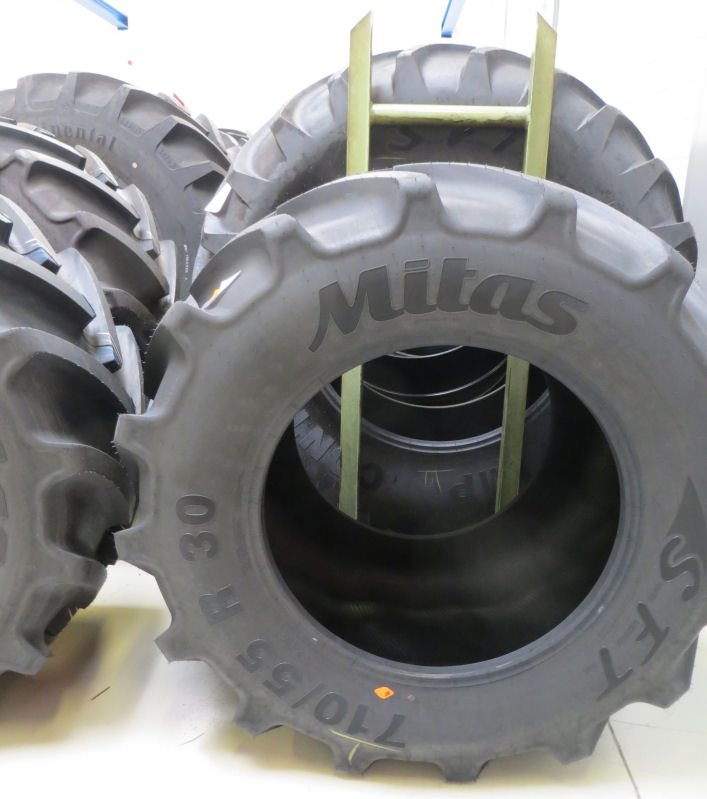 Another sign that Mitas is looking ahead to the day when it relinquishes the license agreement for Continental-brand agricultural tyres can be seen in the Czech Republic-based tyre maker's decision to solely market its newest Super Flexion Tyre (SFT) range in Europe under the Mitas brand name. The six Mitas SFT sizes previewed at last November's Agritechnica show – 900/60R42, 710/60R34, 650/60R34, 710/65R46, 750/65R26, 580/85R42 – go on sale this month and three further dimensions – 620/75R26, 1050/50R25, 1250/50R32 – will enter the market later in 2014.
Upon announcing the range's European introduction, Mitas sales and marketing director Andrew Mabin confirmed information given to Tyres & Accessories earlier this year: Mitas brand agricultural tyres, which accounted for more than 47 per cent of the 63,870 tons of agricultural tyres produced by Mitas a.s. last year (up from around 35 per cent in 2011), will overtake Continental as the majority-produced brand in 2014. "Mitas is manufacturing and marketing Continental and Mitas-branded tyres. This year, we expect a breakpoint in our sales, which will mark the domination of Mitas-branded tyres. New sizes of Super Flexion Tyre are exclusive to the Mitas brand. It is our high-end product and a benchmark of tyres for high horsepower machines on the market."
The Mitas SFT range draws on the performance of Continental SVT (Super Volume Tyre) agricultural tyres. Mitas has produced the SVT line under the Continental brand name since 2004, however new sizes of SFT are now replacing SVTs in European and US markets. The newly-introduced SFT products are manufactured in new sizes that are larger than those existing SVTs are available in, and Mitas says SFT production requires a more demanding and technically advanced manufacturing process. The Mitas SFT is aimed at the high-end of the market; Mitas says the range "embodies the top product on the market."
Regarding performance, Mitas says the SFT offers "equivalent or better than Improved Flexion (IF) concept with no compromise." The tyre maker views the main advantage of SFT as being the flexibility of variable inflation pressure to give optimal performance according to application: Flexible ultra-strong sidewalls allow low inflation pressures for high load carrying capacities, gentle ground handling and higher yields.
Manufacture of the Mitas SFT range began at the company's US factory, which is located in Charles City (Iowa), in the summer of 2012. Production has now been extended to the year-old Mitas plant in Otrokovice, Czech Republic.