Russell extends lead in Yokohama supplied F4 Championship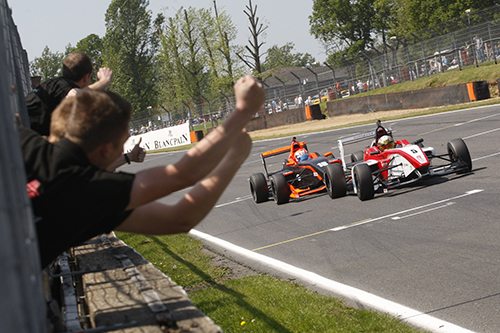 George Russell has extended his lead in the 2014 BRDC Formula 4 championship, thanks to another race win and a podium finish at this weekend's three races at Brands Hatch in Kent. The young driver stretches his lead to 21 points over Raoul Hyman after six of the season's 24 races. Yokohama is supplying the tyres to the series, which aims to be one of the world's most cost-effective in single seat motorsport.
The weather at Brands Hatch matched that around the UK for the second race weekend, with bright sunshine and high ambient temperatures – around 24 deg C – meaning the entire field would be running on the Yokohama Advan A005 dry slick tyres.
At the start of the 14-lap race on the full Grand Prix circuit at the Kent track, Hyman immediately began to open a lead from his pole position, chased by Arjun Maini and Will Palmer, from second and third respectively on the grid. Hyman pulled away to begin with, with a one-second lead by the end of the first lap but by the mid-point of the race, Maini had closed this to 0.5s.
Hyman pushed again and the gap ebbed and flowed until the chequered flag, at which point the winning margin was 0.23s with Palmer a further 2.3s further back. Russell was fourth and Sennan Fielding fifth with Gustavo Lima eighth, meaning he started from pole for the second race.
The second of the weekend's three races saw a huge battle between Lima and Chris Middlehurst, the pair never separated by more than 0.4s throughout the 14 laps. By the time they reached the chequered flag, it was Lima who held the advantage, despite Middlehurst's best efforts, just 0.044s ahead. Russell passed Maini on the last lap to finish in third with Fielding fifth and Palmer, sixth. Hyman originally finished sixth on the road but was later given a 10-second penalty for a jump start and was demoted to tenth.
The third and final race began with Maini in pole, thanks to the fastest lap of the first two races. He and Hyman set about a fierce scrap to begin with, swapping places twice in rapid succession on the third lap. However, this let Russell edge through into the lead which he then translated into his second win of the season, ahead of Fielding who had managed to extricate himself from the three-way battle for second with Hyman and Maini. Hyman was third, from Maini and Middlehurst fifth.
The result means that Russell extends his lead to 155points, over Hyman with 134 and Maini with 120.
Commenting, head of Motorsport at Yokohama HPT, Mark Evans, said; "This weekend was another example of superb racing from the F4 field. I think it shows that not only is the field very closely matched but also, the calibre of the driving is excellent. To have the closest finish in the history of the series on the Brands Hatch GP circuit is a superb demonstration of the competitiveness of the series."