New Pirelli Scorpion Gravel WRC tyre to debut on Rally Portugal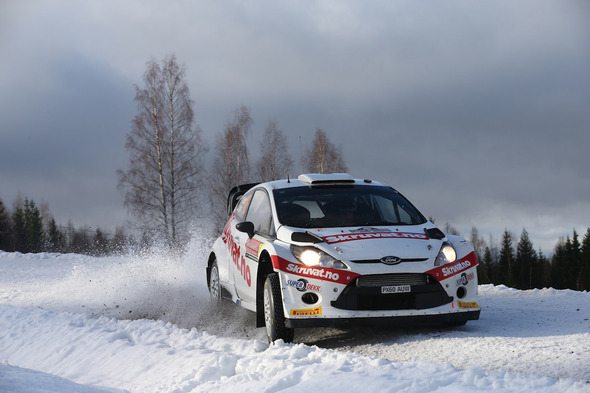 The new Pirelli Scorpion tyre for gravel will make its debut on a World Rally Car at the Rally Portugal on 3-6 April. It will be the first time the Scorpion name has been seen at the top level of rallying since Pirelli ended its exclusive supply contract with the World Rally Championship in 2010. The privately-run Ford Fiesta RS WRC of Henning Solberg will use the Scorpion, having previously used Pirelli's Sottozero tyre to win a stage on Rally Sweden in February.
For the rough gravel surfaces, Pirelli will bring the hard compound Scorpion XR5 tyre and the soft compound XR7. The XR pattern is designed for particularly abrasive and aggressive surfaces, with an internal structure designed to resist damage from impacts with rocks, while the sidewall is also reinforced to protect against punctures. Though it is non-directional, the new XR is symmetrical tyre, which makes each tyre interchangeable on either side of the car: a key advantage when it comes to strategy.
One prime compound is nominated per gravel event (the hard compound in Portugal) with limited quantities of a softer option compound also available in case of unexpected weather. Drivers of WRC1 cars are allowed to use 25 tyres for the event, plus four for the shakedown, making 29 tyres in total. The WRC2 drivers have an allocation of 20 tyres for the event (plus four for the shakedown) making 24 tyres in total.
The XR5 is the prime nomination, with the softer XR7 compound, suitable for use in cooler conditions, available as the option.
Henning Solberg said: "I was very impressed with the performance of the Pirelli tyres in Sweden, where we were competitive from start to finish, and although the gravel of Portugal is a completely different surface, I'm hoping that these tyres will give us an advantage once more. I've got very good memories of driving the previous version of the Scorpion from years ago, but I have to be realistic as well: our car is a private entry and I'm not doing any testing before the rally. Instead, we're straight into the shakedown. In a situation like that, you hope that the tyres can help to make the difference."
Matteo Braga, Pirelli senior engineer, added: "Our aim in rallying this year is to supply tyres for customers, so we are delighted to welcome Henning back in his private Fiesta, after a strong performance in Sweden. Our Scorpion tyre has been completely redesigned since it was last seen on a World Rally Car in 2010 to provide an even better compromise between performance and durability, while answering the demands of the latest tyre regulations, which strictly limit use."