Ketomaa sets sights on strong result on Dmack tyres at Rally Portugal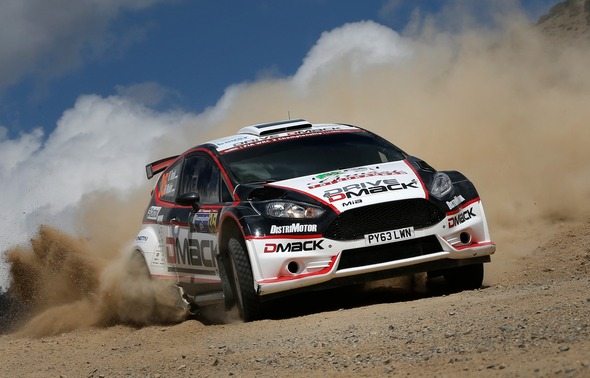 World Rally Championship tyre supplier Dmack says that Rally Portugal sets one of the toughest challenges for tyres, as its drivers search for more WRC2 successes. The British brand, manufactured in China by Shandong Yongtai, says that stages on Rally de Portugal are some of the most abrasive across the entire season and can see tyre wear increased by up to 30 per cent. The hard bedrock surfaces punish tyres to the limit and demand high levels of durability.
Dmack is seeking to follow up positive performances in Mexico, where Ott Tänak set a string of fastest WRC2 times using Dmack's DMG+2 tyre in the nominated S3 hard compound. And that tyre will equip Jari Ketomaa's Autotek-run Ford Fiesta R5 when the Drive DMACK World Rally Team tackles the tough terrain in Portugal.
Ketomaa and co-driver Kaj Lindstrom will be aiming for a strong result this weekend to build on their second place on Rally Sweden. But they face huge competition with a total of 20 WRC2 entries lining up to take on Portugal. Ketomaa will be joined by Fredrik Ahlin, Nicolas Fuchs, Robert Barrable and Rashid Al Ketbi as Dmack aims for success in WRC2 with five Fiesta R5 runners.
The gravel stages are a real mix of tough conditions. There are fast, open roads with blind crests and hard bedrock surfaces mixed with narrow, sandy tracks and tyres must deliver a good mix of traction, durability and puncture resistance. Crews must also cleverly manage their tyre allocation across the weekend to achieve the best performance.
However, the early spring calendar date means the Portuguese weather is an unknown. In recent years torrential rain has turned roads into a muddy mess with crews struggling to stay on the road. In the event of wet weather, Dmack will also have its soft and S6 on offer to competitors as an alternative compound. The maximum tyre allocation for the three-day event is 24 of which 16 alternative compound tyres are permitted.
To prepare for the challenge, Jari Ketomaa and co-driver Kaj Lindstrom will race on this weekend's Fafe Rally Sprint – the hugely popular event attracting tens of thousands of exuberant rally fans close to Porto.
In a switch to last year, crews will travel to Lisbon for a ceremonial start at Estoril on Thursday evening followed by a quick blast through the Lisbon super-special street stage.
While the rally could be complicated, the rest of the itinerary is simple. Both Friday and Saturday feature two loops of three stages totalling 73km, run in the morning and repeated in the afternoon. The final day action on Sunday comprises three stages including the 13.83km Loulé power stage before the finish back at the Algarve Stadium – home to Rally HQ and the service park.
Dick Cormack, Dmack managing director, said: "The abrasive nature of the roads combined with the length of stage loops will ensure this is an extremely difficult event for tyres and crews. Drivers and engineers will need to manage their tyre allocation and think carefully about which tyres they use when. However, if it rains then I think the Dmack runners will have a strong advantage as we've proven already that our soft compound tyre is extremely competitive."
Jari Ketomaa said: "Portugal is one of those difficult rallies and with the large entry here it's certainly going to be a tough event. The stages are a real challenge with lots of surface changes and differing grip levels so it's easy for things to go wrong. We need a strong result in WRC 2 so the aim is for a clean rally."