GT Radial seeking expansion in 22.5", 17.5" coach and bus tyre market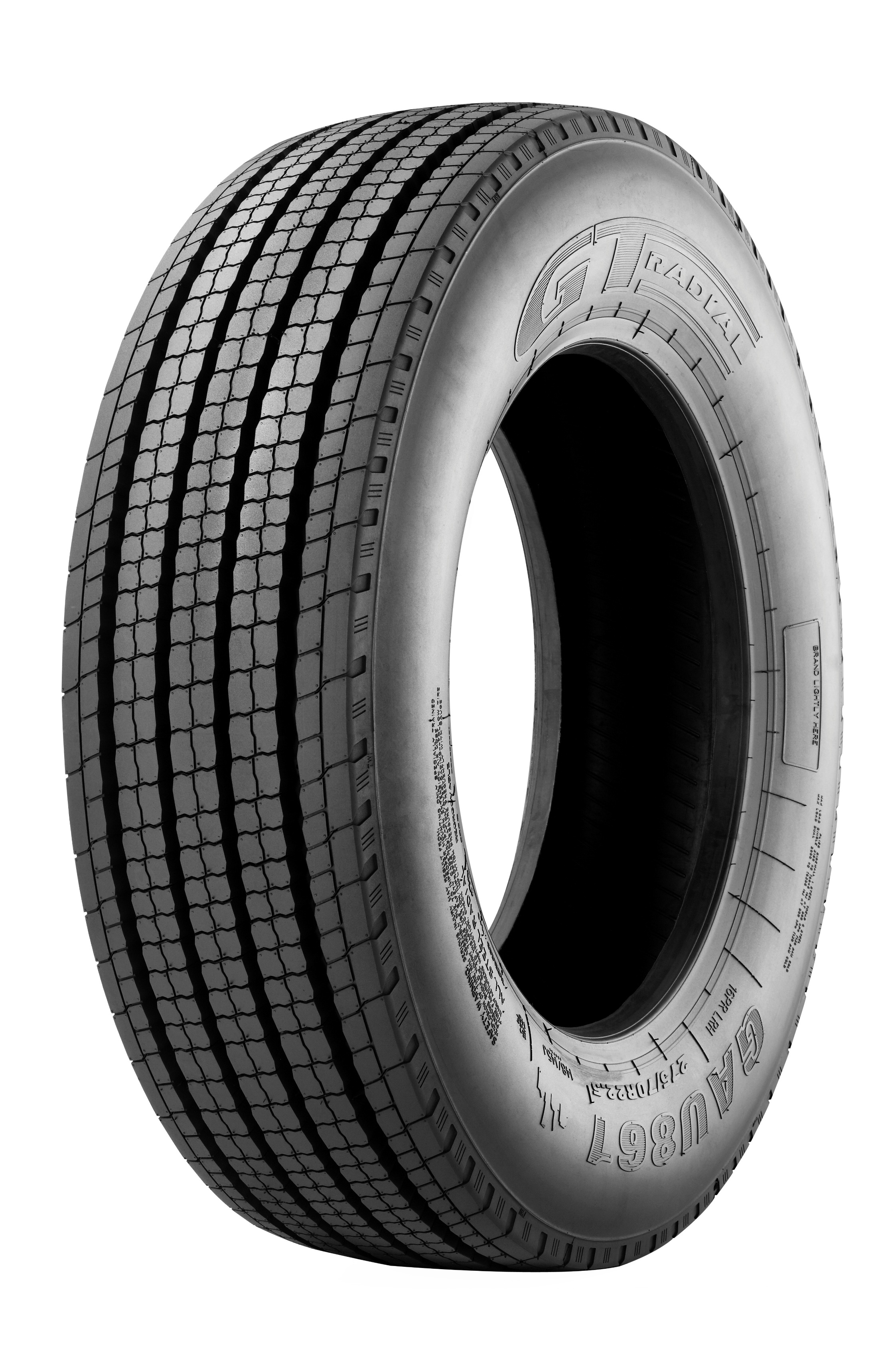 Having made its debut at Coach & Bus Live 2013 in support of its all-position urban city-bus tyre, the GAU861, and with recent success in the closely linked truck market, GT Radial has ambitions to increase its share in the passenger transportation side of the commercial vehicle tyre segment. Tony McHugh, sales and marketing director at Giti Tire UK, and marketing director – Europe, Peter Foulkes told Tyrepress that the company's "broad coach and bus portfolio", including 22.5" and 17.5" fitments, is now well placed to pursue increasing numbers of potential fleet customers, while the brand has existing deals within the sector in Germany.
The GAU861 has been designed with an extra reinforced sidewall protector to ensure maximum resistance to curbing and impact damage, while a unique tread pattern with a 20.2mm depth ensures good mileage performance combined with extra comfort and reduced noise.
Available initially in 275/70R22.5, the tyre can be used in both steer and drive positions on both 4×2 and 6×2 configurations and is M+S marked indicating excellent traction in mud and snow conditions.
The flagship brand of Giti Tire displayed the GAR820 regional all-position tyre and the GT629 regional drive axle model in addition to the new tyre. McHugh said the new GAU861 has been "very well received" at both Coach and Bus Live and at its launch at The CV Show in April.
The GAR820, a regional all-position 17.5" diameter tyre was created to cater for the increasing requirements of comfort, excellent wet and dry handling properties and long wear-out performance. Initially available in sizes 215/75R17.5, 205/75R17.5 and 225/75R17.5, the company has added 235/75R17.5 and 245/70R17.5.  The tyre also carries a M+S marking indicating good winter performances.
The GT629 dedicated drive axle tyre for coach and regional bus operations utilises the latest three-dimensional interlocking sipe design with open shoulder and sidewall protector ribs. Designed to deliver exceptional regular wear, it is M+S marked and available in 295/80R22.5.
GT Radial also entered the growing multi-usage sector with the launch of the GSR225 Combi Road steer axle tyre. Designed to perform in both regional and long haul operations across a wide range of commercial vehicles, the product has specially developed tread and base compounds to improve mileage and a wider tread pattern to deliver better handling and extra resistance to tearing and curbing. Initially available in size 295/80R22.5, the range was expanded in late 2013 to include sizes 275/70R22.5; 315/60R22.5; 315/70R22.5; and 315/80R22.5.
A new casing construction has been developed for increased load indexes to cater for the introduction of Euro VI regulations and the extra weight which will be added to the axle by emission filters and other air cleaning devices. Load indexes range from 148/145M to 156/150L.
Foulkes said the tyre marked "a hugely important development within the product portfolio, not only does it lay down a marker of what the company is capable of in terms of R&D, it opens up a whole new customer base. We have worked in partnership with some of Europe's leading hauliers and coach operators to realise the final design, with hundreds of thousands of kilometres covered to ensure the best possible performance and build quality. We are immensely proud of what we have achieved, and the market will be suitably impressed."
German market fleet deals
In Germany, GT Radial can already boast some penetration in the coach and bus fleet market. National manager, sales and marketing truck tires, Michael Kaletta told Tyrepress that Eberhardt Reisen, which owns 10 buses for regular service and 25 coaches, has mounted mostly GT Radial products, including the GAU861, on various 22.5" wheel sizes. The buses are used in regular service around Karlsruhe and Pforzheim, while the coaches are used for Alps tours between France, Germany and Eberhardt Reisen says it is "convinced about the quality and the relation of price and value" of the GT Radial tyres.
Likewise Mädl Busreisen has fitted the 295/80R22.5 GAR821 (a tyre not currently sold in the UK) mostly on the steer axle of 20 school buses operating in the Weiden area. Mädl says it is "happy with the performance of grip, comfort and driving stability… [having] decided to use GT Radial for the steer axle, because we need an M+S marked tyre."