Our worn tyre is better than the rivals' new products, says Michelin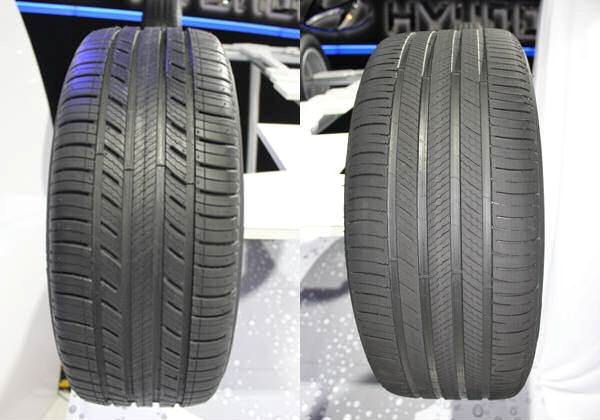 Two days ago we reported the launch of Michelin's Premier A/S at the NAIAS in Detroit; since then, US trade publication Tire Review shared with us a bold claim Michelin has made about its new all-season tyre – that it is better worn than competitors' tyres are when new.
As previously mentioned, the most significant aspect of the Premier A/S is a construction that enables it to maintain wet grip levels as the tyre wears. According to Tire Review, Michelin has even favourably compared the tyre's wet braking ability when worn with that of brand new competitor tyres. "Our worn tyre stops shorter on wet roads than our leading competitor's brand new tyres," said Scott Clark, COO of Michelin North America's passenger and light truck tyre division. Clark went on to later say, "We used to say our new tyre is better than their new tyre. Now we say our worn tyre is better than their brand new tyre."
In its press release covering the Premier A/S launch, Michelin reports that it buffed a Premier A/S tyre to 4mm (5/32") of tread and tested it against brand new Goodyear Assurance TripleTred A/S and Bridgestone Turanza Serenity Plus tyres (all in size 215/60R16) for wet braking from 40 and 50mph. These Michelin-run tests showed the Premier A/S to have a shorter stopping distance.
North American customers will begin receiving the Michelin Premier A/S in April in 32 sizes ranging from 185/65R15 to 245/45R18. Eventually the tyre will have 45 skus with the potential for more. Scott Clark added a LT/SUV version of the tyre, which also features Michelin's EverGrip technology, will be launched this coming autumn.