Tag: Pacific

More than 10 million original equipment and replacement market Ecopia tyres have been sold in the Asia Pacific region since the brand was first launched there in 2009, reports Bridgestone Asia Pacific Pte. Ltd. As of 2014, Ecopia tyres accounted for more than 20 per cent of Bridgestone's replacement market sales in Asia Pacific.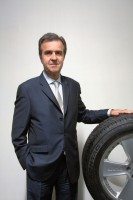 Antonio Lopes Seabra, executive-vice president at Continental AG and head of the tyre maker's PLT tyre Replacement Asia Pacific business unit, says Continental sees "great potential in the APAC region." Over the past 12 months the company has commenced or stepped up operations in a number of Asian markets, and it aims to "bring more driving fun" to a broader audience in the Asia Pacific area by supplying products suited to the region.
Under restructuring measures Bridgestone is undertaking in the Asia region, Bridgestone Asia Pacific Pte Ltd. (BSAP) will expand its area of responsibility to include tyre operations in China. From 1 July, Bridgestone Asia Pacific – henceforth abbreviated to BSCAP – will become the head office in charge of both BSAP and Bridgestone (China) Investment Co. Ltd., the company's current Chinese head office.