Continental using AFC Asian Cup to increase brand awareness in China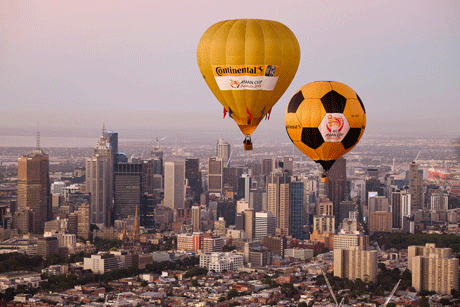 The AFC Asian Cup Australia 2015 kicked off on Friday 9 January in Melbourne, with Continental as the exclusive tyre partner. In association with the event, the tyre maker is now launching a series of campaigns under the 'Thrill of Technique' banner to fan the flames of football passion all over the APAC region, and particularly in China.
"Football, the world's number one sport, its passion, techniques and spirit of teamwork characterise Continental Tires' brand DNA perfectly. With long history of football sponsoring all over the world, Continental Tires shows the commitment to football and will continuously communicate through this platform," said Antonio Lopes de Seabra, executive vice-president of Continental's Replacement APAC, Passenger and Light Truck Tires business unit.
To engage consumers during the event, Continental has launched a football 'selfie' app in China, Korea and Japan, and has brought hot air balloons to the skies over Sydney, Melbourne, Canberra, the Gold Coast and Brisbane; these orange balloons are marked with both AFC and Continental logos. In addition, 'Conti-buses' are carrying out a shuttle service on the streets of match cities. Various further activities are also taking place during the matches to fuel football passion, such as the Conti-Challenge in the fan zone, Fan Of the Match and Player Escort.
Using football as a brand awareness tool in China
Under its four-year sponsorship deal with the China National Team, Continental Tires China wants to leverage the Asian Cup 2015 to connect the positive emotions generated by football with the Continental tyre brand and use this connection to increase brand awareness. The company thus launched what it calls the '12th person' campaign – a competition with the aim of finding the "12th person for Team China". The first prize was a trip to Australia to see Team China play.
"Fans all over the world are passionate about the players' skills and precision, Continental Tires make sure the performance regarding braking, handling and cornering for your ride based on leading tyre technology engineered in Germany. Therefore technique is the perfect linkage between tyres and football," said Jing Wang-Winter, marketing director for Continental's Replacement Asia Pacific, Passenger and Light Truck Tires business unit.