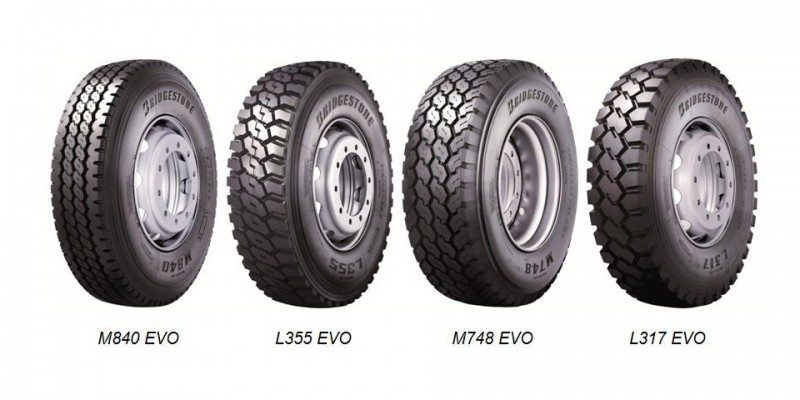 Bridgestone's EVO range
Starting January 2015, Bridgestone Europe is rolling out a new range of EVO marked on/off truck and bus radials. These higher load capacity tyres aim to give operators in the construction and mining sectors the opportunity to carry heavier loads – without compromising tyre performance, cut resistance and durability. The EVO range is also M+S marked and marked with the alpine symbol, identifying snow tyres as defined in UN Regulation R117.02.
"By increasing the load capacity of our on/off line-up, Bridgestone can help customers raise overall efficiency by maximising use of their heavy vehicles, with no trade off in terms of tyre life," comments Harald Van Ooteghem, senior manager marketing planning within Bridgestone Europe's Commercial business unit.
The following tyres make up the new EVO line-up:
• M840 EVO in sizes 13R22.5 and 315/80R22.5 (all position, on/off road)
• L355 EVO in sizes 13R22.5 and 315/80R22.5 (drive, on/off road)
• M748 EVO in size 385/65R22.5 (trailer, on/off road)
• L317 EVO in size 13R22.5 (all position, off road)
Operators using the Bridgestone M840 EVO, L355 EVO and L317 EVO will, compared with standard tyres, be able to carry an extra 0.5 tons per axle for a single fitment and 2.6 tons on a double fitment. The increased load for M748 EVO is 1.0 tons per axle with a single fitment.
Bridgestone says this increased load capacity has been achieved without compromising the performance advantages the it typically provides: excellent durability, high resistance to cuts and chipping, and a robust casing that offers superior retreadability and extended tyre life.
The EVO tyre structure has been reinforced to make it robust enough to maintain the skeleton of the tyre with minimal deformation in service, while keeping the flexibility required for demanding on/off operations. On top of a reinforced bead structure, Bridgestone technologies deployed in the range include a waved belt, which increases the stability and durability of the casing; a split belt package, which softens the belt package allowing more casing flexion; and stone ejector, which prevents stones from penetrating the belts.
The Bridgestone M840 EVO, L355 EVO and L317 EVO will be available across Europe from January 2015 and M748 EVO from March 2015.
Category: Product News