Tag: Andrew Reitzner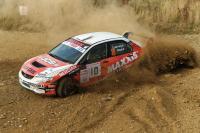 Maxxis-supported rally driver Pat Naylor achieved back-to-back victories at the Trackrod Rally, Yorkshire. His first in class finish highlighted the synergy between car, driver and Maxxis' R19 tyre, finishing the season in style.
Global tyre brand and Cheng Shin Rubber wholly owned subsidiary, Maxxis has created a portfolio that is particularly strong in the 4x4 tyre market, with an emphasis on the more extreme off-road conditions an important part of its marketing strategy. The accessibility of the 4x4 and SUV car market to more budget conscious motorists has increased with lower priced vehicles entering the booming market. As such, Maxxis is positioned as a lower cost alternative to the traditional premium brands, though also offering global brand recognition through its activities in extreme sports.