Wedding day fire hits Germany's largest tyre wholesaler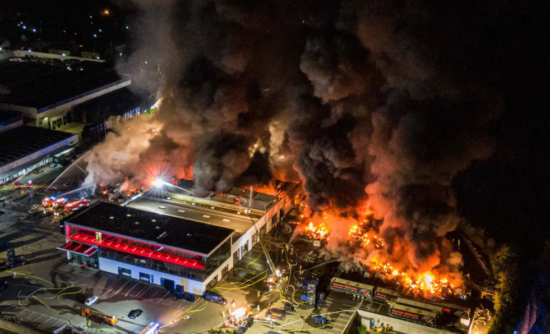 Saturday should have been a day to remember for Bruno Göggel, and indeed it was. But instead of fond memories of celebrating his nuptials with family and friends, the owner of German tyre wholesaler Reifen Göggel watched a large part of his recently-built facility burn to the ground.
The fire first took hold in Reifen Göggel's new logistics and administration building in Gammertingen, Baden-Württemberg and from there spread to an outside storage area, destroying tyres and vehicles and causing gas bottles to explode. Local fire department press spokesman Joachim Pfänder told the Reutlinger General-Anzeiger newspaper that while firefighters were able to save part of the building, another portion of it has collapsed.
A fireworks display held during the wedding festivities is thought to have caused the fire. The Reutlinger General-Anzeiger writes that fireworks may have ignited a stack of tyres. A police spokesperson told the publication that "Investigations have not yet shown that they (the fireworks) started the fire. However, it is obvious." Reifen Göggel states that it "fully supports the authorities' investigations" but stresses that it cannot comment further at this time.
Some 380 firefighters and 70 vehicles attended the incident, and emergency services treated five people for the symptoms of smoke inhalation. The Reutlinger General-Anzeiger reported this morning that firefighters are still working to completely extinguish the fire.
Wholesale operation 'not affected'
Reifen Göggel emphasises that it is business as usual for the wholesaler. In a statement issued this morning, marketing head Mike Hummel points out that the blaze has affected just one of the eight buildings at the site, and this facility was being used for storing winter tyres. "Owner and managing director Bruno Göggel assures that usual business processes will continue undiminished," writes Hummel, adding: "Warehouse management ensures that ordered goods will be delivered immediately as planned."
Expansion with fire protection
Established in 1982, Reifen Göggel was selling up to 5.5 million tyres a year by 2019 and generating turnover of around 350 million euros. According to our sister publication Neue Reifenzeitung, the wholesaler recently expanded its facility in Gammertingen with the addition of a new building to house its growing vehicle fleet. The extensions also included a new fire protection and extinguishing concept, including eight 100,000 water tanks intended to supply a sprinkler system in case of an emergency.
The wholesaler says it will continue its plans for further expansion despite the fire. "Reifen Göggel is one of the largest wholesalers in Germany, not least thanks to a modern logistics system and company-owned fleet of vehicles. With more than 120 of our own transporters, we enable a fast and reliable availability of goods."