Autogem's TPMS Expert awards names judges, gains CAM Systems sponsorship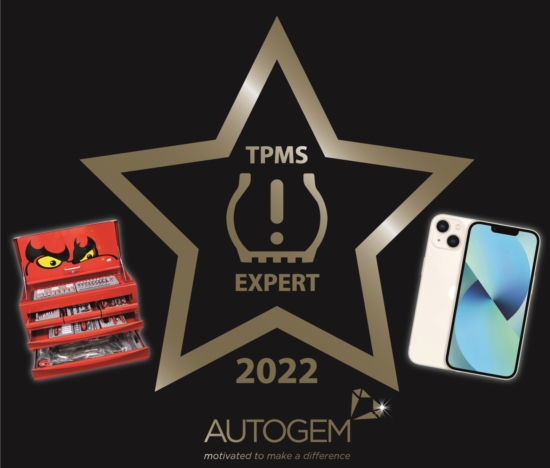 Autogem's inaugural TPMS Expert competition has named three top judges from the industry and announced CAM Systems' sponsorship of the event.  Indeed, as part of its partnership, CAM Systems has agreed to provide an iPhone 13 as one of the prizes.
Entries are now open and qualifying sessions will take place online on 27, 28 and 29 April. 12 finalists will be invited to take part in the grand final at the Garage & Bodyshop Event on 8 June at the NEC, Birmingham.
The winners will be chosen by a panel of independent judges who will assess the finalists' ability to diagnose TPMS problems, communicate the issue and then take quick and effective action. All activity will be against the clock, in workshop conditions using AutoGem's exclusive i-sensor equipment.
Autogem managing director Prashant Chopra said: "If you can diagnose, communicate and resolve tyre pressure monitoring system issues faster and better than your colleagues, then this is the competition for you. Think you're in with a shout? Prove it and win the official title of 'The UK's top TPMS expert."
Prizes include: A brand new iPhone 13 (courtesy of CAM); A Teng Toolbox worth £1200 (courtesy of AutoTech Training); A pair of tickets to the British GT Championship; Two, 2-day Level 3 IMI EV and Hybrid training courses (thanks to AutoTech Training); A number of Bluetooth speakers & goody bags (donated by Qualitor Automotive/Michelin Wiper Blades).
The competition is open to all UK tyre technicians using AutoGem's patented i-sensor technology – the UK's leading TPMS equipment used by the largest and most respected tyre retailers and specialist tyre-related workshops.
CAM joins Autotech Training and Michelin Pro Series Wiper Blades as official competition sponsors.
Judges announced
Autogem has also revealed its judging panel for the final on June 8:
Rob Marshall – Rob is an automotive technical specialist and freelance motoring writer, researcher and photographer. Rob also writes for The Times, Auto Express and Good Motoring.
Stefan Hay – Stefan is the Chief Executive at the National Tyre Distributors Association (NTDA) and the driving force behind the NTDA's National Tyre Technician Development Scheme that assesses and licences tyre technicians in all aspects of tyre maintenance, including TPMS.
Dave Walker – Dave is the Director at Autotech Training and has over 30 years of motor industry experience, previously working in apprenticeship and training roles in a variety of international automotive companies.
Prashant added: "TPMS is a vitally important component on vehicles today and by creating 'TPMS Expert UK', we hope to bring this point to life. Not only can MOTs fail on TPMS issues, but they are also a key safety feature on any vehicle, prolonging tyre life and making motorists aware of any potential deflation issues as and when they occur.
"We're delighted to welcome CAM as an official sponsor adding further kudos and prestige to the competition. Meanwhile, securing Rob, Stefan and Dave as judges is something we're also thrilled about, as we aim to create something really special with TPMS Expert in 2022."