Absolute Alignment launches Bluetooth Lite wheel aligner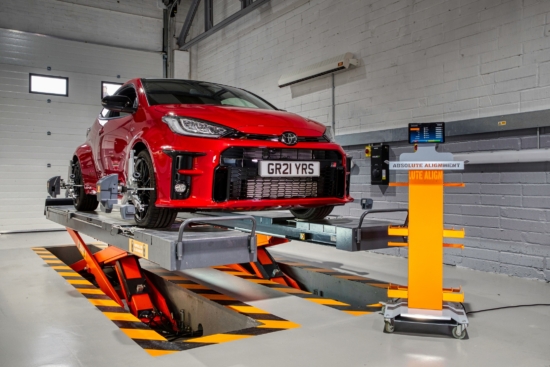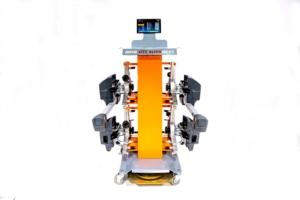 Absolute Alignment has launched a new version of its popular Bluetooth Lite wheel aligner. The wheel alignment equipment specialist has developed the new model on the existing 'Lite' product.
The new Bluetooth Lite has an extremely small footprint and is quick to put to work anywhere in the workshop. It can be used over a pit or on a variety of lifts, including two and four-post ramps and a scissor lift. The measuring heads have the power capabilities for a full day of use and the attached fixing clamps fit a range of vehicles, to meet most workshop demands.
Absolute Alignment says the Bluetooth Lite "cuts back on hardware but not on quality." The six-camera CCD alignment system is OEM-standard, and the aligner runs off a Samsung Android tablet so that technicians carry out adjustments without needing line-of-sight to a base unit. As with all Absolute Alignment equipment, on-site training and a full customer support service are included in the package to make sure garages benefit fully from the potential profitability.
Chris Dear, Absolute Alignment's technical director, said: "We are excited to launch the new Bluetooth Lite, which we see as a professional alternative to old-fashioned laser 'tracking gauges' for tyre bays and workshops. Our aligner provides four-wheel alignment for very little more money than the lasers, and with a greater degree of accuracy.
"The new Bluetooth Lite has been specifically designed to take up minimal space, making it more practical for independent workshops with less floor space. Plus, it is an extremely cost-effective option."
The new Bluetooth Lite is priced at £5,995 +VAT and is available from stock.
Absolute Alignment supplies the latest 3D, digital and Bluetooth wheel alignment equipment from around the world. The company says that dealerships and independent workshops choose its equipment because the company specialises in wheel alignment alone. It claims to be the "only provider with a full range of Bluetooth wheel aligners suitable for cars and commercial vehicles." Absolute Alignment offers on-site training from factory-trained engineers, a yearly service package that complies with PAS125, and next day delivery on wheel alignment equipment.
The company opened its its new head office in Aldershot, Hampshire in the second half of 2021. The HQ includes a training area with a two-post lift, a dedicated build area to calibrate and test equipment before dispatch and delivery, a main office area, and a storage area. The training area, which is also used as an active workshop for Absolute Alignment's own vehicles, is available for new customers to learn about the latest in wheel alignment and ADAS technology. As the company's staff are based on-site, customers are also able to put faces to the names of those behind the Absolute Alignment daily operation.