Conti SportContact 7 win 'shows commitment' to 'class-leading performance tyres'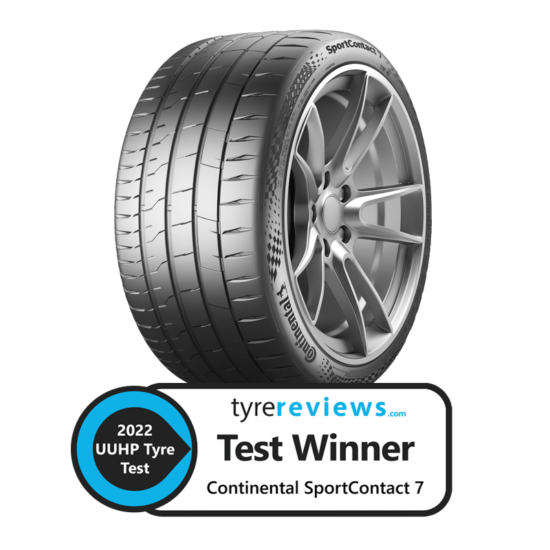 Continental's new SportContact 7 won its first independent tyre test when Tyre Reviews made it the winner of its 2022 Ultra High-Performance test. The new model improves on the sixth generation SportContact with braking distances eight per cent shorter in the wet and six per cent shorter in the dry. Peter Robb, marketing director at Continental, said: "What a win for the SportContact 7! With the success of its predecessor, this result is evidence of Continental's commitment to producing class-leading high performance tyres. We are thrilled with the win, especially as it is the first tyre test for the new tyre."
The tyre's handling and grip in wet and dry conditions have benefitted from Conti's latest technical advancements. The Tyre Reviews test put the SportContact 7 in first place in these disciplines by a considerable margin.
Jonathan Benson of Tyre Reviews said: "The just released Continental SportContact 7 sets a new benchmark in the wet, finishing both tests with an impressive gap to the next best tyre. With such an advantage in the wet, the new Continental SportContact 7 is a deserving test winner, and with it, a new standard for the UUHP segment."
The new SportContact 7 is the latest generation of Conti's popular summer sports tyre series. Conti says the new generation offers drivers high performance and safety, in a handling-oriented, high-mileage tyre. During development, Continental focused on improving driving pleasure with maximum safety and sustainability in a UUHP tyres.
The SportContact 7 is suitable for sporty vehicles and is available in sizes from 19 to 23 inches.