Continental launches SportContact 7 UHP tyre with improved performance, mileage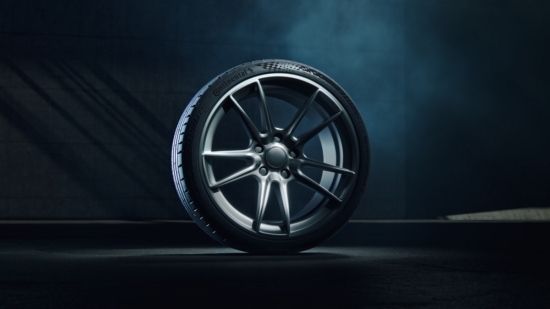 Tyre will be presented this autumn in initial run of 42 sizes between 19 and 23 inches, with sizes for sporty compact cars to supercars
Continental has launched the SportContact 7, the latest in its ultra-high performance tyre line. The manufacturer will offer an initial run of 42 sizes for rim diameters between 19 and 23 inches with expansions due over the next year. The tyre is oriented towards handling and high mileage, with safety at its core. Compared to the previous sixth-generation model, itself a multi-test winning product for this segment in the six years since its launch, Conti says it has improved track performance by 10 per cent, wet braking distances have been reduced by 8 per cent, dry braking is 6 per cent shorter, and mileage has increased by 17 per cent (according to tests on the size 245/30 R20). Handling and grip in the wet and dry are also significantly improved, Conti says. The tyre's C-grade rolling resistance label score also places it among the top-rated premium brand U-UHP tyres in this metric.
Conti's development focus for the SportContact 7 was in optimising all areas of performance – it says the object was to combine "absolute driving pleasure with maximum safety and sustainability in the U-UHP segment." To achieve this, Conti's Black Chili compound has been formulated to adapt to the grip characteristics of the asymmetrical profile.
Though it specifies the upper end of the UHP tyre segment, Conti is targeting a wide range of vehicles. These include models like the Audi RS series and the sporty BMW M series; compact cars like the Ford Focus III RS or the Mini Cooper S Clubman; and of course supercars like the Porsche 4 S GT, and various AMG, Lamborghini and McLaren cars. Conti is also providing fitments for refined cars, such as the Brabus S 65 Rocket 900 Coupé.
"The new generation SportContact allows us to offer motorists who love high performance a safe product, oriented towards handling and high mileage," said Enno Straten, head of strategy, analytics and marketing tire replacement EMEA at Continental. "The new product will be the flagship and the first representative of our seventh generation of summer tyres expected to be launched in the coming years."
"The goal of our development was to have the best summer sports tire on the market for each vehicle class," said Burkhard Wies, Continental's head of research and development for passenger tire replacement. "This has allowed us to obtain a much more effective driving style on dry and wet roads or on the track, and at the same time an exceptional mileage that improves by 17 per cent that of the previous model. As regards fuel efficiency, thanks to the C category of the European label, we make an effective contribution to sustainability."
Tyres & Accessories will report further from the launch of the Conti SportContact 7, which takes place this week.