Conti SportContact 7 'sets benchmark' in Tyre Reviews UUHP tyre test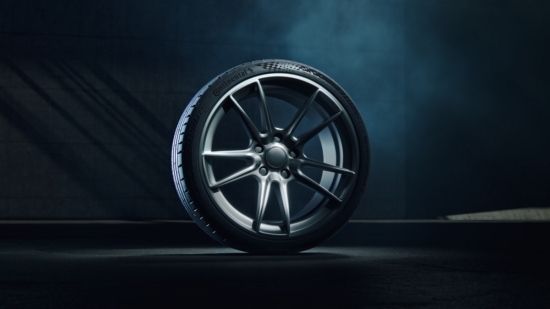 Tyre comparison website Tyre Reviews has put ten popular tyres for performance cars to the test, making the brand-new Continental SportContact 7 a winner in its first outing on the independent assessment circuit. Reviewer Jonathan Benson fitted the ten tyre combinations to a BMW-powered Toyota Supra in sizes 255/35 R19 (front) and 275/35 R19 (rear) for the test, which he conducted over nine disciplines at Conti's Contidrom facility. Given that the tyre was proven at the circuit, and is at least 12 months newer than any other product in this test, it is perhaps a little unsurprising that the SportContact 7 prevailed, but with reasonably comfortable first-place finishes in the dry and wet handling and braking tests, Tyre Reviews concludes that the tyre sets "a new standard for the UUHP segment."
In contrast with other tyre tests looking at this segment, Benson concentrated particularly on sporty, track-based performance characteristics, mixing subjective and objective assessments and lap times. The test also used one set of tyres unconventionally made up of one budget brand on the front (Star Performer) and another on the back axle (Goodride SA37). While this seems an unfair way to assess both products, the test put this into context as a relatively common practice in the UK market – in fact the lack of synergy and difference in levels of grip between different front and back tyres could be worse if, as Benson exemplifies, the back axle is fitted with budget tyres while worn original equipment premium tyres remain on the front. So while it is worth being cautious about the assessment of this particular mixed fitment, the point is reasonably made, and Tyre Reviews ultimately recommends against mixing tyre fitments like this. Unfortunately for one brand – Federal, with its Evoluzion ST 1 – the combination fitment did not end up in last place.
One lower-priced tyre did distinguish itself somewhat in fifth place, behind the four recognised premium UUHP tyres included in the test. The Nankang Sportnex AS2+ was lauded for its comfortable ride, and while its track grip did not compete with the best tyres, Benson saw a place for it on track as a tyre that could offer capable drifting with relatively hard wear.
Tyre Reviews 2022 UUHP Tyre Test Results
Test Winner: Continental SportContact 7
+ Best in Wet Braking and Handling by a long way; also fastest in Dry tests, including the shortest Wet Braking
– Low resistance to Aquaplaning; relatively high Rolling Resistance
Comments: Tyre Reviews said the tyre "sets a new benchmark in the wet," while not compromising in dry performance. It is a fair way off the best tyres in aquaplaning and rolling resistance tests, but these may not be of the greatest concern in this market segment.
Highly Recommended: Michelin Pilot Sport 4 S
+ Excellent Dry and Wet Grip; Resistance to Aquaplaning; low Noise and Rolling Resistance
– Lacked Steering feedback and Handling test speed was quite far from the best
Comments: Does everything well with "a range of abilities no tyre can rival." Not as sporty as other tyres in the test.
Recommended: Bridgestone Potenza Sport
+ Excellent in the Dry; very good in the Wet
– Reduced resistance to Aquaplaning; high Noise level mixed with lowest Comfort; Highest Rolling Resistance in test
Comments: Tyre Reviews called the tyre "exciting to drive," praising its sporty handling. Given the compromises, the website said the tyre is "for the enthusiast that prioritises driving enjoyment."
"Track Master": Goodyear Eagle F1 SuperSport
+ Best Dry Handling and short Dry Braking
– Low Wet Grip and Aquaplaning resistance; Noisiest tyre on test; low Comfort rating
Comments: High track enjoyment comes "at the expense of some road manners" – Tyre Reviews made it "the tyre to pick" for track use.
5th place: Nankang Sportnex AS2+
+ Good Wet Grip and high resistance to Aquaplaning; quietest on test; best for Comfort; low Rolling Resistance
– Weak Dry Grip and oversteer balance
Comments: Tyre Reviews said the tyre seems biased towards providing a comfortable rather than a performance ride, but added that the tyre punched above its price category.
6th place: Kumho Ecsta PS71
+ Best Aquaplaning resistance; low Rolling Resistance
– Wet and Dry Grip
Comments: The tyre couldn't keep pace with the leaders in the wet and dry handling circuits, but excelled in deeper water.
7th place: Toyo Proxes Sport A
+ Predictable Wet Handling; good Straight Aquaplaning resistance; good Comfort
– Long Braking distances in Wet and Dry, high Rolling Resistance
Comments: Tyre Reviews said the tyre "peaked in comfort testing and wet handling" due to its predictability. Average grip in wet and dry and longer braking distances let it down.
8th place: Vredestein Ultrac Vorti+
+ Comfort
– Grip was short of the best tyres in Wet and Dry; high Rolling Resistance
Comments: A "comfortable performance tyre," but "wooly" handling feel.
9th place, Not Recommended: Star Performer TNG UHP1 (front) / Goodride SA37 (rear)
Comments: Unsurprisingly, the mix of two budget tyres provided "unbalanced" performance and "unpredictable" handling.
10th place, Not Recommended: Federal Evoluzion ST 1
+ Low external noise
– Extremely low Wet Grip; low Dry Grip with poor Handling
Comments: Tyre Reviews says the tyre "has poor grip in every condition," calling its wet braking distances "dangerously long."
Read the full test remarks over at Tyre Reviews.