OE deals demonstrate expanding Yokohama Advan range's qualities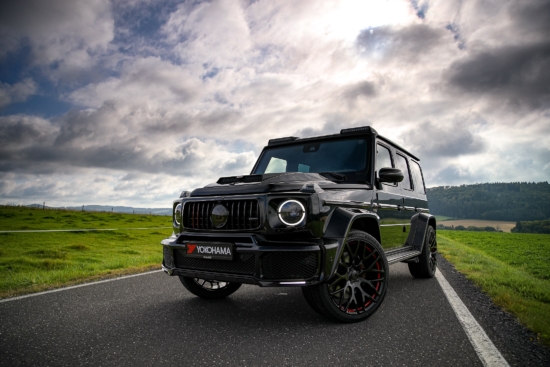 The flagship range, a popular choice with premium vehicle manufacturers, will be expanded with 2022 V107 launch
Yokohama's flagship Advan tyre range has secured original equipment approvals from some of the world's leading vehicle manufacturers, such as BMW, Mercedes-Benz, and Porsche. The manufacturer will launch a new flagship replacement market tyre in 2022, the Advan Sport V107, developed for premium vehicles in an initial range of 30-plus sizes between 18 and 23 inches. Versions of the tyre developed alongside leading OEMs, have already been specified for fitment on a variety of new models, such as the Brabus Off Roader range and BMW's first fully electric "sports activity vehicles."
Yokohama states that its Advan tyre range "represents the pinnacle" of its range, "producing the highest levels of performance, balance, comfort and eco credentials for premium high-powered sports cars, luxury saloons, SUVs, and compact vehicles."
The Yokohama Advan Sport V107 has been developed for premium vehicles, having been selected as original equipment by many of the world's leading vehicle manufacturers including BMW, Mercedes-Benz and Porsche, the V107 has recently been approved as tyre of choice by Brabus Gmbh for its 700/800/900 Off Roader.
The tyre has also been selected as original equipment for the BMW iX3, the first sports activity vehicle (SAV) with an all-electric-drive system from BMW, alongside the existing M3, M4, M5, X3, X4 and X5 original equipment fitments. Yokohama's full range of BMW original equipment tyres all feature the star mark validation of the company's approval for BMW homologation.
Furthering the Advan Sport's credentials as a leading high-performance range is its use on many Mercedes-AMG models, including the GLA 35 and 45, GLB 35, GLE 53 and GLS 63. The MO and MO1 (Mercedes Original) marking on the tyre's sidewall, highlights that the Advan Sport tyre more than meets the manufacturer's requirement for approval.
Emphasising Yokohama's expertise in performance, the Advan Sport tyre range has been selected as original equipment for the Porsche 718 Boxster, 718 Cayman, 911 Carrera, Cayenne and Panamera. Yokohama's complete range of tyres fitted as original equipment with Porsche features the manufacturer's N0, N1 or N2 homologation codes on the tyre's sidewall.
New Advan flagship
Yokohama will launch the Advan Sport V107 onto the replacement tyre market in spring 2022, the manufacturer tells Tyres & Accessories. The range, based on these earlier developed OE tyres, will introduce more than 30 tyre sizes, ranging from 225/40ZR18 92Y XL to 305/35R23 111Y XL.