Mitchell and asTech launch MD-OE22OEM scanning solution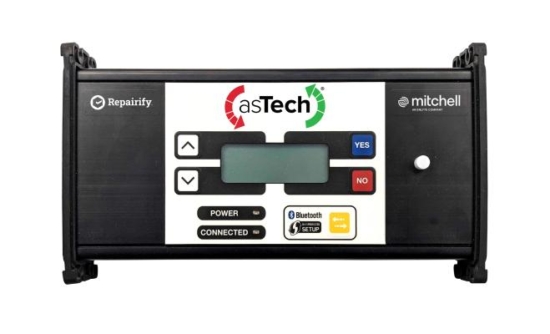 Mitchell, an information provider for the Property & Casualty (P&C) claims and collision repair industries, and asTech have launched the MD-OE22. The new diagnostic solution combines asTech's patented OEM scanning device and remote services with Mitchell's cloud-based ecosystem and collision repair software. Using the MD-OE22, technicians can perform proprietary OEM scanning and programming with asTech-powered diagnostic tools while accessing scan reports, invoices and repair management technologies from within the Mitchell platform.
The integration of the diagnostic and cloud workflows standardizes all scan reporting across the entire Mitchell Diagnostics product suite, allowing collision repair facilities to produce consistent, easy-to-understand repair documentation for insurance carriers and vehicle owners.
"We are honoured to work with Mitchell, a top North American provider of automotive claims and collision repair solutions," said Cris Hollingsworth, president of asTech parent company Repairify Global Holdings, Inc. "The integration of our innovative technologies can help our customers improve efficiency as they seek to restore vehicles to OEM specification quickly, safely and accurately."
According to the companies, the MD-OE22 allows US and Canadian repair technicians to search for, identify and resolve diagnostic, electronic and computer-related trouble codes on collision-damaged vehicles from the most popular manufacturers. This includes the newest 2022 models. Based on the patented asTech remote diagnostic device, the MD-OE22 connects diagnostic information from official OEM scan tools to valuable repair advice provided by ASE and I-CAR Certified Technicians. All returned information is presented within the Mitchell cloud-based platform, where repairers spend most of their time.
"asTech is a market leader in OEM remote diagnostics," said Jack Rozint, senior vice president of repair sales at Mitchell. "Through our collaboration, Mitchell customers can access best-in-class
Mitchell International Headquartered in San Diego, Calif., Mitchell International, Inc. delivers smart technology solutions and services to the auto insurance, collision repair, disability and workers' compensation markets. Mitchell, Genex and Coventry recently aligned their joint industry expertise and advanced technology solutions to form Enlyte, a parent brand with more than 6,000 associates committed to simplifying and optimizing property, casualty and disability claims processes and services.
Collision repair facilities interested in purchasing the MD-OE22 can contact Mitchell or visit the company's website for more information.