Why tyre servicers need to address ADAS – Hella Gutmann Solutions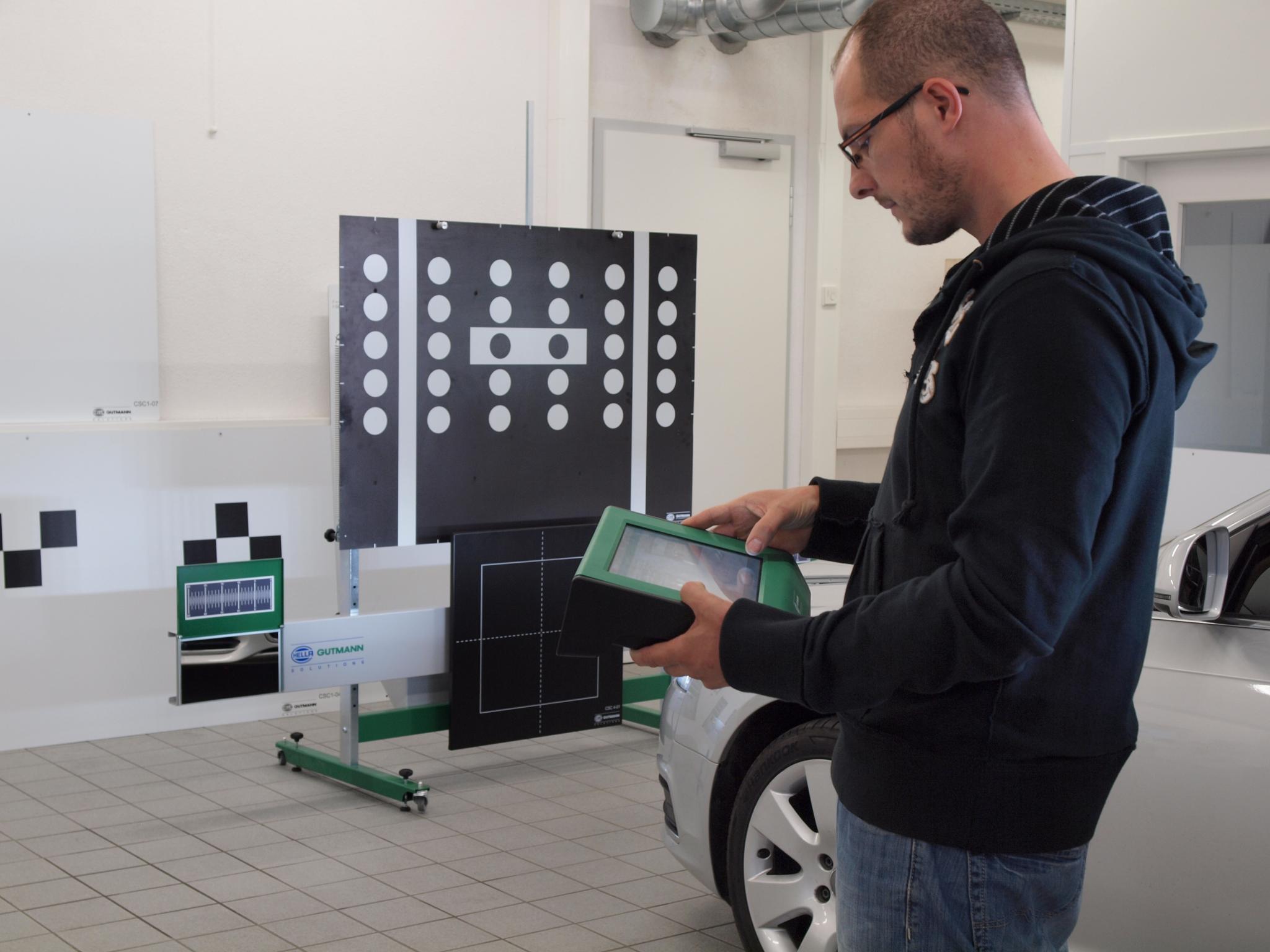 Technological tipping points are not always easy to identify, and the pace of change in the automotive industry can make it a challenge for garages not affiliated with new car dealerships to stay on top of new carfeatures as they begin to require repair. Advanced Driver Assistance Systems (ADAS) are emblematic of this, and considering their centrality to the safe operation of many new cars, the stakes have also risen. Tyres & Accessories magazine visited Hella Gutmann Solutions' (HGS) facilities in and around Ihringen, Germany to see how the supplier of diagnostic and camera and sensor recalibration solutions is responding to garages' increasing need for new equipment, technician training, and data, to address the rise of ADAS.
Neil Hilton, head of business development at Hella in the UK, and an Institute of the Motor Industry automotive trainer, tells T&A that the current "complexity of the systems in cars is outstripping the competences of diagnostic tools, expertise, knowledge, and training" typical of independent garages now. While many will have been tempted to wave off the need to get up to speed on ADAS in the short-term, he argues that "more will have worked on ADAS equipped cars than they might know." He states that the "only way" to be sure all systems fitted to the car have been identified is to "perform a global scan… using a suitable diagnostic device" – HGS's solution for this is its range of mega macs tools, manufactured on-site in Ihringen, as T&A witnessed during its time at the facility.
Since 2016, a minimum of two ADAS systems must be fitted to a new car for a five-star NCAP rating. There are now 32 car manufacturers fitting ADAS, and this is not confined to the premium brands – or even models; very common cars such as the Audi A4 and the Volkswagen Passat are now available with a variety of ADAS features.
In addition to their increased prevalence, ADAS cameras and sensors are often well-hidden, for example behind apparently transparent bumpers, and can be inadvertently disabled or misconfigured during routine repairs to paintwork, windscreens, or, most relevant to those providing tyre servicing, during a wheel alignment. To take this last factor as an example, altering the geometry of the car can lead to misalignment of cameras and sensors without the system reading the new alignment as a fault, meaning automated ADAS-enabled safety features such as lane departure prevention, or adaptive lighting could malfunction. With good reason, wheel alignment companies are now selling ADAS spin-off systems.
Hilton adds that the legal requirements of garages with regard to ADAS are still emerging. Since NCAP five-star rated cars will have been insured as such, a garage failing to repair, deactivating, or otherwise compromising features required to attain such a rating could have serious repercussions, he contends. HGS consulted a leading legal representative of automotive firms, which stated that workshops could become vulnerable to a claim (see textbox for more details), and Hilton himself believes "we're heading for a test case" in the current climate. Given all of this, Hilton adds that garages "need to be able to calibrate, or refer to someone who can," in order to ensure ADAS systems are properly maintained.
HGS's aftermarket ADAS soutions
HGS has been engaged in the ADAS aftermarket for five years, addressing the needs for new equipment, increased up-to-date data for the calibration of new car models' latest systems, technician training and marketing materials for more widespread awareness. It states that its tools and data systems are "designed to grow with the technology", arguing that its growing complexity and usage means garages will require continued updates to ride the wave of change.
In terms of training in the UK, Hella has a training room and practical workshop with a capacity of 25 delegates. It has helped to produce the IMI's course for ADAS, and runs assessments requiring 75 per cent to pass (Neil Hilton wryly comments that the test "can be failed"). From Ihringen, the "Hella Academy" also offers online training including videos, and ultimately an "HGS diagnostics specialist" qualification for completing enough parts of the training. While this has focused on the DACH region, the Hella Academy is set up to be rolled out over other regions – the online provision is already available in seven languages.
In addition to training, Hella also runs a highly sophisticated support operation from a building near its Ihringen site. "More than 60" technicians, trained by HGS and recruited as specialists already – each has worked for their speciality marque for "at least five years", with ongoing fortnight placements every year in garages in the region – are organised into offices dedicated to the various car marques, while a ticketing system, which is connected to HGS's mega macs diagnostic tools in addition to other contact routes, ensures responses are made in a timely fashion. The response target time is under 30 minutes, HGS tells T&A, though this depends on the quality of the information collected – the company addresses this via 15 dedicated data collectors. The contact centre also feeds back to HGS to identify new data requirements for diagnostics.
How is this data collected? When new car models are launched, delivering an aftermarket solution for diagnostics becomes an important, and fairly onerous task for HGS. In order to access the increasing number of data points, while getting around the security OEMs place on data, HGS must "re-engineer" the data presented via the data link connection, a task that ultimately takes up to around six months for one person to complete now – partially thanks to the exponentially growing amount of data now processed by modern cars. The company believes that showing the intensity of the work required helps to "justify" its subscription fee for its data updates. Ultimately, Rolf Kunold, Hella managing director, characterises this data-gathering as proof of Hella's championing of independent technicians. While he believes "sensitivity will grow" among drivers and their attitude to third parties accessing their car's data, he adds that he sees this as a good thing. Motorists' greater awareness of the data access required to fix their cars will help to argue the case that this data must be accessible so that independent garages have the opportunity to add value to their customers.
Current HGS products
At the centre of HGS's product range stands its line of mega macs diagnostics tools, while the company has also added a Camera & Sensor Calibration Tool (CSC tool) for high-precision calibration of ADAS data supplying camera and radar systems. Its current CSC tool is characterised as "a true universal solution focussed on real workshop needs," with 28 brands currently covered. Three optional CSC tool kits also enable all-round vision and rearview cameras, which is of growing importance. HGS has also developed an additional portable calibration solution for cameras, offering new possibilities for roadside assistance providers, car glass experts, service providers for vehicle fleets, and for companies with multiple workshops.
All ADAS calibrations are managed by various iterations of the mega macs system, currently available as 42SE, 56, and top of the range 77 tools, or by the mega macs PC. The tools feature operator guidance through vehicle-specific work steps, and fully time-stamped documentation, offering increased security for workshops. The flagship mega macs 77 was launched this spring, including a full HD touchscreen and cable-free charging station. In addition to hardware benefits, the mega macs 77 software architecture is intended to increase the possibilities surrounding mega macs 77, preparing "for digital workshop processes and platform-independent applications in network-based systems," HGS states.
Whatever the solution, it seems clear that workshops must take steps to enable ADAS-ready servicing, or face referring business elsewhere.