Yokohama offers US$2 billion for Trelleborg Wheel Systems as global off-highway tyre segment consolidates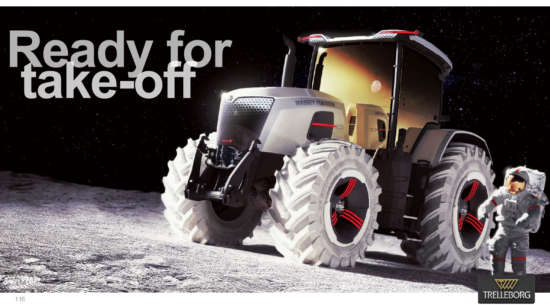 Yokohama Tire has bid around $2 billion for Trelleborg Wheel Systems in a move that could further expand the Japanese company's growing off-highway tyre business. Sources close to the bid told Tyres & Accessories that Yokohama is currently in a due diligence process that is likely to be completed during the next month or so. Yokohama previously bid for Prometeon, the ex-Pirelli industrial/off-highway tyre business at the end of 2019. Despite ongoing discussions over the following year or so, that deal wasn't completed. Yokohama appointed the former global head of Prometeon, Gregorio Borgo, as its European president earlier this year. Trelleborg Wheel Systems executives declined to comment on the reports.
While many aspects of the Prometeon business – not least the firm's Turkey and Brazil manufacturing operation – would have been complementary to Yokohama's growing off-highway emphasis, the complexity of the business's dual Chinese/Italian ownership is understood to be the reason behind the failure of Yokohama's bid. However, Trelleborg offers premium product heritage too. Indeed, Trelleborg bought Pirelli's agricultural tyre business back in 2001 as well as the ex-Continental agricultural operation and its Mitas brand in 2015. But Trelleborg's Swedish-owned stock market-conscious status is likely to make this purchase a much more streamlined process for Yokohama.
Tyres & Accessories understands that Yokohama's bid is for the complete Trelleborg Wheel Systems operation, which amounted to 26 per cent of the wider Trelleborg business in 2020. It may also include the Mitas technical rubber business Rubena Nachod, which was sold to Czech investment firm Kaprain in August (a deal that was completed in October 2021). Should that be the case, Yokohama's interest is said to be the result of viewing the operations as a package. According to Kaprain, Rubena produces "a wide range of rubber products for domestic and foreign markets including tyres and bike inner-tubes".
Yokohama has already made significant strides in the off-highway tyre business following the acquisition of Alliance Tire Group for $1.179 billion in March 2016, a price-tag that many saw as a generous offer.
Strategically, Trelleborg's products are likely to sit above Alliance in a post-acquisition product portfolio, with Trelleborg generally seen as premium and Alliance reputed to be somewhere between tiers two and three on a five-point scale.
Despite the difficulties associated with the Covid-19 pandemic and its related lockdowns, Trelleborg Wheel Systems has done well in recent years, something that is especially evident in the agricultural tyre sector. Indeed, the company has reportedly invested in additional equipment to expand its production capacity.
Trelleborg Wheel Systems president Paolo Pompei rebutted T&A's questions by saying TWS never comments on "unsubstantiated and speculative rumours" and that "Trelleborg is very committed to our tyre business."
However, his concluding remarks provide more room for interpretation: "We have invested in our platform following the integration of Mitas and Trelleborg, and we will continue to invest to build an even more successful future."
Trelleborg Wheel Systems "ready for take-off"
During Trelleborg Group's recent "New Horizons for Trelleborg" capital markets day on 9 December, corporate information described Trelleborg Wheel Systems as "ready for take-off". This wasn't an explicit reference to the sale of the company, but it does provide an attractive context for an incoming bidder. Indeed, executives say they are seeking to leverage Trelleborg Wheel Systems' strong brands and well spread manufacturing footprint (14 plants around the world) – both of which would be attractive to Yokohama.
Further Trelleborg AB documents show that the company's board of directors has organised an extraordinary general meeting to be held before the end of 2021 in which it proposes to "authorize the Board…to resolve on repurchase of the company's own shares on the stock exchange on customary terms."
The purpose of the share buy-back scheme? "To adapt the company's capital structure and thereby contribute to increased shareholder value."
"Our objective is that the program will recur and therefore the Board intends to return to Annual General Meetings in the coming years with proposals of repurchases of the company's own shares. The ambition is to repurchase own shares of approximately 2,000 to 3,000 million Swedish krone per year. The Board's intent is that the repurchased shares are cancelled at a time decided by upcoming Annual General Meetings," according to Hans Biörck, chairman of the Board of Trelleborg Group.
Trelleborg's share price closed at 212.20 Swedish krone the day we learnt of Yokohama's offer (Monday 13 December 2021). By the morning of Tuesday 14 December (immediately before publishing) Trelleborg stock had risen roughly 2 per cent to 216.20.
However Yokohama's due diligence concludes and whatever comes of its bid for Trelleborg, further consolidation in the off-highway and specifically the agricultural tyre segment is highly likely. For example, on the other side of the Atlantic, Titan Wheel International (TWI) chairman Maurice Taylor suggested his firm is also on the acquisition trail. Speaking in an official statement on 9 December 2022, he said:
"I should also mention that even though TWI is the world's largest manufacturer of wheels for agriculture and construction, we also have the greatest capacity of Ag tyres in the world.  There are potential acquisitions that could be interesting for us, so it is a very exciting time at Titan heading into 2022″