Tyron Runflat MultiBands to be fitted on additional UK police force vehicles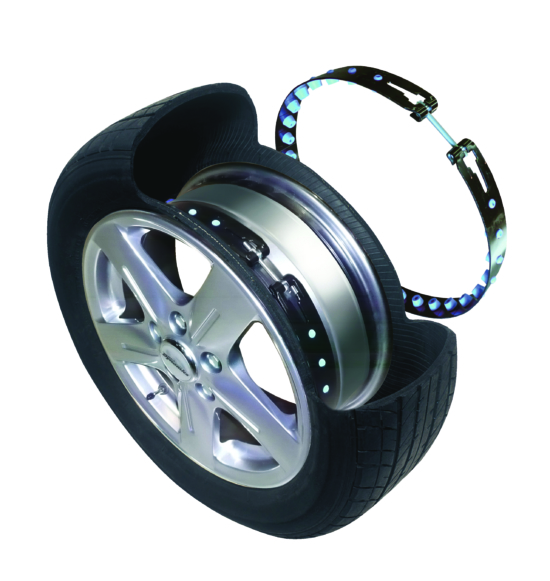 Tyron's reports that its Runflat MultiBands have been selected to keep the fast pursuit vehicles of the Cumbria Constabulary and Cheshire Constabulary police safe in the event of a tyre blow-out at speed. The selection will see Tyron MultiBands rolled out to in-service pursuit vehicles that previously had run-flat tyres fitted.
Already mandated for riot vehicles used by all police forces across the UK – and with more than 1,000 vehicle sets delivered to date – Tyron's MultiBands are designed to enable drivers of standard vehicles to maintain steering, braking and cornering control during a high-speed tyre blow-out, and provide a short distance run-flat capability to allow the driver to manoeuvre to a place of safety before stopping to change the tyre.
Tyron MultiBands are a patented, lightweight well-filler band that converts a standard alloy or steel wheel into a safety wheel. They are guaranteed to 'lock' the tyre onto the wheel rim, preventing the tyre from dropping into the fitting well, allowing the driver to maintain control and keeping occupants and nearby vehicles safe during sudden tyre-strike incidents, even with all tyres deflated. They also protect the vehicle wheel-arch and bodywork from damage caused by a flailing tyre.
According to the company, Tyron's range of MultiBands can be fitted during the third-party re-fit process for new police vehicles or retrofitted to existing vehicle fleets. They are designed to be maintenance-free, and do not affect vehicle acceleration, braking or fuel economy during regular vehicle usage. Tyron Multibands accredited by TUV.
Since 1977 Tyron has been developing a range of tyre safety features which are designed to keep vehicles moving safely at speed and for distances well in excess of standard requirements.
In the early 80's Tyron was contracted by the UK MoD to develop a range of steel bands for the Land Rover steel wheels. The evolutions of the original bands are now marketed as Tyron MultiBands and are fitted to leisure, commercial, security and military vehicles.
In 2008 Tyron invented the All-Terrain Rubber run-flat (ATR) insert, which can be fitted in the field to both military split rims and ordinary tubeless wheels, giving off road mobility with run-flat capability of up to 100 km which far exceeds the Finabel standard.