SEO: Blackcircles catching Kwik Fit in UK tyre search engine positioning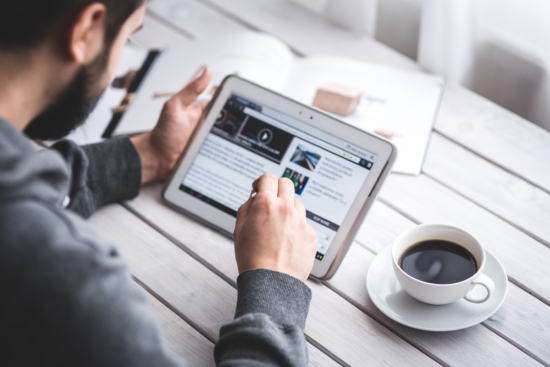 On the one hand, most sources agree that online tyre demand is booming as a result of the pandemic and its related lockdowns. However, on the other hand, such rapid growth has also led to increased competition online. One way of finding which tyre firms are getting ahead in the online space is to consider the race for pole-position in Google search results. Since Google is by far the biggest search engine online holding a dominant 92.47 per cent global market share as of June 2021 (87.7 per cent in the UK specifically), getting your brand ahead of the competition in search results makes a big difference. And paid search advertising, known as pay-per-click (PPC) – is one way to do that. In order to get a handle on the tyre retail sector's virtual performance in 2021, Tyres & Accessories worked with SEO marketing specialists Evolved who analysed the organic search and PPC performance of the top 23 UK-based etailers and concluded that online specialist Blackcircles is taking ground from bricks and mortar market leader Kwik Fit, amongst other things.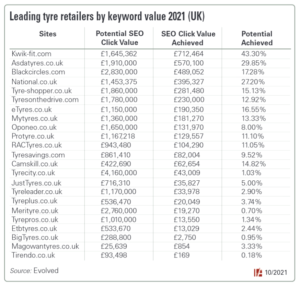 Evolved's report found that brands big and small have continued to look to maximise revenues where they can in the short term, whilst also jockeying for top position in search results, hoping to be ideally positioned to take off in the post-Covid market. Amidst the challenges of the bigger picture, Evolved reports that "there is some evidence that we may be witnessing the start of a long-anticipated coming of age for online-first brands and their ability to grow market share in organic search results."
Research conducted into the product-specific search visibility for the sector through the digital marketing search tool SearchMetrics shows that the gap in terms of total search visibility for all tyre traffic may now be as little as 10 per cent between market-leading Kwik Fit and the Michelin-owned online brand, Black Circles. Since overall metrics for the domains suggest Kwik Fit is significantly larger and that Kwik Fit still holds number one spots for competitive high traffic search terms like "Tyres", this may be surprising. But Blackcircles' overall growth in online search visibility is said to have been driven by "a combination of rising performance on highly searched generics, but also from a wide net of keywords around specific tyre brands and models."
This range of keywords has been further enhanced by strong performance in the "garages area" of the site, targeting valuable local search traffic. In addition to their main commercial rankings, the domain has achieved notable success from their help centre area, which accounts for around 10 per cent of their total visibility for keywords, according to the Evolved research.
Investment in content has allowed Blackcircles to build prominent rankings for everything from searches for "tyre sizes" to explaining how "load indexes" work. The value of this type of traffic can often be overlooked by those who see it as lacking intent to buy now. However, pre-sale research is just that – research that takes place before a sale. And it is different to put a price on the marketing value of building a trust narrative with consumers. Such content also has the by-product of generating "strong SEO signals" that can positively impact a domain's overall ability to "rank organically for competitive commercial terms".
Protyre and Tyresavings 'ones to watch'
Within the tyres sector, search competition has been consistent if only in its tendency for volatility and change. Blackcircles now appears to be closing in on Kwik Fit in relation to tyres, but previously held a far higher overall visibility score in 2016/17. According to Evolved, the brand later lost around 40 per cent of this around the time of the "Phantom" and oddly named "Fred" Google updates. The latter focused on de-ranking so-called "thin pages" – content which Google views as poor quality.
For its part, National Tyres got within 15 per cent of Kwik Fit in 2017, but since have "experienced a significant" drop in "search visibility from these previous highs", according to Evolved. However, it should also be noted that National Tyres made significant positive progress in the first quarter of 2021, before encountering headwinds in the second quarter once again.
Most recently, National Tyre's comeback has continued with the site adding 20 – 25 per cent in terms of search visibility across all product areas in the past six or so months.
In terms of click value, Asda Tyres have moved into second place. Despite not having as high of a search visibility as Blackcircles, Asda Tyres ranked for more valuable keywords from a cost per click perspective. This clearly a great outcome for Asda Tyres, which saw "huge growth" at the beginning and end of 2019, had an "erratic" 12 months in 2020, before finishing 2020 20 per cent down on its opening performance.
Other notable findings include the emergence of Protyre.co.uk and Tyresavings.com. According to Evolved, these are two of "the ones to watch in the next 12 months". Although both have been in the market for some time, their progress against the market leaders is described as "impressive". Notable performance landmarks include the achievement of top five rankings for terms like "Tyres" and "Car Tyres".
If you take a look at the top-performing pure-play e-tail brands Blackcircles and Oponeo from a five-year perspective, we can see that both are "currently very much short of their recent performance peaks". 2020 represented the continuation of a "torrid decline" in search visibility for Oponeo which is currently 50 to 60 per cent down on its 2019 high point.
According to Evolved's analysis, Oponeo continued to struggle through the spring and summer of 2021, with "organic search visibility now at another all-time low". The site which at one time was a market leader with over a visibility score of over 12,000 in 2018, has dropped over the year to 2700. Within the year alone this represents a 50 per cent fall from their visibility in early January.
Does this all mean we could be seeing the emergence of new leaders within tyre-related search? According to the visibility-related data, Blackcircles and Kwik Fit are closer than they have been for some time. And the likes of Asda Tyres and Protyre could turn out to be real contenders moving forward.
But not all clicks are not created equal. According to Evolved, focusing on raw traffic "can often serve to misrepresent the overall value of clicks a brand receives". Rather, one of the best ways to assess the market value of keywords and clicks is to look at the Google Ads CPC's (cost per click) attached to these in a bid to value such terms. Here, we get a different picture:
"Despite the inroads made by Blackcircles in terms of overall organic traffic, when it comes to the value of that traffic, it is Kwik Fit that is still the standout market leader. Kwik Fit dominates when it comes to high value commercially desirable keywords around tyres with an estimated equivalent CPC value of £977,735. This means that – combined – the clicks Kwik Fit receives from organic search are worth almost £1 million each month, if they were to look to buy this same traffic from Google Ads.
Focusing on value, Blackcircles are still the closest competitor, but it is a distant second with the current value around half of this at just under half a million per month (£487,070). This is followed in third by another strong performing online brand Asda Tyres who have reached £449,030 worth of monthly organic traffic.
The potential traffic value figures for each site are also illuminating. This figure measures the total value of all the keywords a site appears for in search results, regardless of whether it is currently in a ranking position to generate traffic. This tells us about the range of a site to appear for available keywords and how far it could potentially cast the net. Here, Kwik Fit are "in a league of their own when it comes to current results in terms of site potential", they only rank third with Blackcircles and Tyre City taking the top two spots each with around £2.5 million of potential value, 25 per cent more than Kwik Fit.
We should also consider the ownership of the best-known online brands, many of which should be grouped together since they have the same owner. For example, Kwik Fit, Tyre Pros and Tyre City should all be considered as different channels of the same owner – ETEL. Viewed this way, questions relating to Kwik Fit's/ETEL's market leadership are swiftly removed. However, now that ETEL has announced that it is focusing on Kwik Fit and STS Tyrepros, it will be interesting to see if Kwik Fit's lead can remain unchallenged in 2022.
Applying the same group logic to eTyres, Asda Tyres and RAC Tyres (which are all part of the Colewood Automotive group) as well as National Tyres and Tyre Shopper (which are part of Axle Group) plus mytyres and Tirendo (just two of Delticom's many brands) reveals not only are these market leaders even stronger than they first appear but that most of the online retail market is made of up of a comparably small group of very competitive players. Here positive search positioning can make a big difference, something that good optimisation and strategic connections with strong sites positively impacts (see optimisation ranking chart). Now that miles-driven figures are beginning to rise and as we all enter further into the new normal, the data suggests that the online marketplace is only getting more competitive.