Autogem's TPMS tool, expertise and aftermarket strength rewarded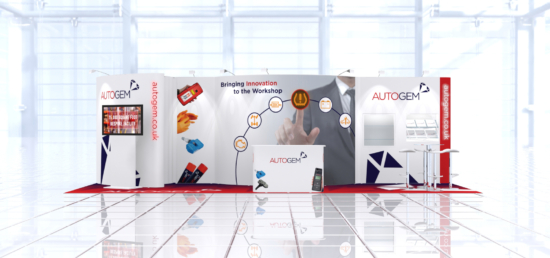 Aftermarket supplier Autogem is bringing its product range to life in front of hundreds of garage businesses at Mechanex 2021, energised by its maiden victory in the NTDA's Aftermarket Supplier of the Year Tyre Industry Awards category. The company said that it will showcase its solutions to a host of key decision makers and centre owners at the 9-10 November event. While making its name as a one-stop shop for all sorts of garage consumables, Autogem is also a specialist in TPMS, built around its investment in the I-sensor Pro handheld tool. The tool offers instant, personalised tyre pressure reporting with a completely integrated tread-depth measuring device to give technicians a full picture of the condition of each tyre they are tending to on an easy-to-read colour screen.
Prior to the show, Autogem managing director Prashant Chopra said: "We can't wait to get down to Sandown Park for Mechanex and we look forward to demonstrating real value to visitors to our stand. All of our solutions are designed to save time, empower technicians and create additional revenue streams.
"Mechanex is a brilliant opportunity for us and one that we are going to maximise. We are continually finding the latest and most relevant products for the industry to benefit from, and visitors to our stand will see this for themselves."
I-sensor Pro development
Autogem chose to invest deeply in its new TPMS solution while the world was in lockdown in 2020. It says this development helped the I-sensor Pro offer customers a "time saving, revenue generating resource like never before." Featuring wifi connectivity, Bluetooth and an integrated auto-focus camera, allowing for instant, personalised tyre pressure reporting, the company describes the completely integrated tread depth measuring device as a "world-first." Like its predecessor, the i-sensor, it duplicates sensors electronically or manually and can create a brand new, unique sensor in a matter of seconds. It diagnoses sensors at the wheel side and boasts 99 per cent coverage of all direct TPMS vehicles in the UK and also includes American vehicle software coverage as standard. The new device supplemented what was already a comprehensive aftermarket TPMS programme, Autogem adds.
At present, Autogem has coverage on 150 out of 153 original equipment sensors. More than 3,500 workshops use the company's exclusive technology in the UK.
Autogem has also created free online TPMS 'tune-up' refresher sessions for laser tyre analytics and introductory 'getting started' training to ensure that businesses and staff are trained properly in the use of Autogem's equipment.
All of the courses can be found at Autogem's dedicated TPMS zone section, with each one designed to create demand. The company introduced these initiatives during the aftermarket slump following the government's MOT extension in 2020.
Prashant Chopra said: "We want to create additional revenue opportunities and maximise sales potential whilst ensuring our customers are provided with the right components and that they are fitted correctly.
"Depending on where you are in your TPMS journey we have many different training solutions. We have come-up with a range of free courses which will also empower technicians, save time and lead to an added sense of professionalism whenever a customer arrives on the forecourt.
"Having trained well over 7,000 people, we have a great deal of experience to draw from. We have put together the very best learning tools in our locker to ensure that your transition into the world of TPMS is a seamless, stress-free one."
Aftermarket strength
Over the course of the last two years, Autogem's strong supplier relationships helped it to navigate tricky aftermarket supply conditions. In 2020 its new range of GemCare masks, a triple-layer, reusable anti-bacterial facemask, showed how quickly it could respond to a new, unforeseen market demand. Anatomically designed by medical professionals, the masks are a significant upgrade on disposable, single-use surgical masks which can be loose in fitment and offer only basic protection. The GemCare masks are therefore a safer, more sustainable solution.
At Mechanex, Autogem is also featuring Michelin Pro-Series Wiper Blades, for which it became the UK distributor in 2020. It sees this new line as another integral dimension to its aftermarket portfolio. The product range gives 95 per cent coverage with relatively few SKUs, and are easy to install, Autogem says. It is also displaying its GemSeal tyre sealant, an equivalent alternative to main dealership solutions at a lower price.