Aquaplaning measuring device wins Autocar technology award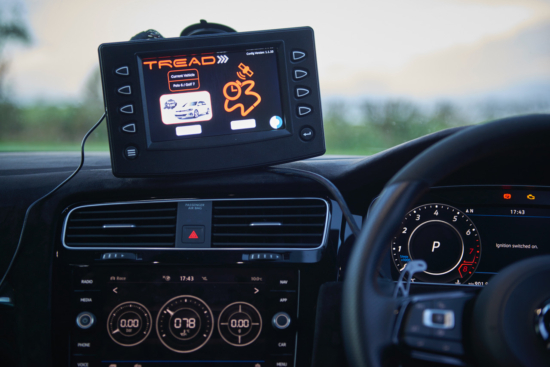 An aquaplaning measuring solution devised by Tread Ltd founder Ray Collier has won the prestigious Autocar Drivers of Change Digital Award. According to the award citation, Collier's one-box solution offers a unique way of reducing the R&D costs associated with car and light truck/van tyres.
Born out of Collier's experience as a tyre development engineer and managing director of Tread Ltd, the non-contact equipment uses the vehicle's existing wheel speed sensors (connected via the OBD port or CAN bus on older cars) and correlates the car's forward movement to GPS. Once a predetermined threshold of slip relative to wheel speed is measured indicating aquaplaning, the device outputs the data to excel for digital transfer via USB. Real-time measurements are displayed and cover the data including GPS speed, GPS latitude, GPS longitude, engine speed, throttle position, steering angle, brake pedal input and all wheels' speeds.
Collier explained more to Autocar: "I have designed the equipment to be simple to install so any company can use any driver to give repeatable accurate results. The ease of use also reduces development costs, test loops required and minimises the environmental cost of tyre development.
"Using my experience from working with a number of automotive manufacturers and tyre companies at locations around the globe, I have developed a number of innovative techniques to objectively test tyres on vehicles using data gained from testing."