Continental orders new Ansible Motion simulator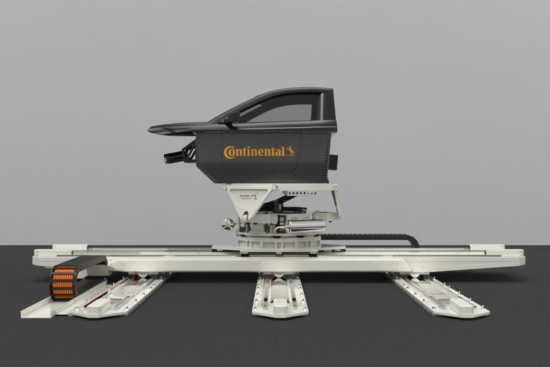 Compact, lightweight class-leading Delta S3 Driver-in-the-Loop simulator paves way for connected, more sustainable, simulation-driven tyre testing
Continental has become the first tyre manufacturer to order Ansible Motion's all-new advanced Driver-in-the-Loop (DIL) simulator, the Delta S3. Simulation technology, which is now capable of modelling tyre performance to an extreme degree of accuracy, is increasingly employed by car manufacturers and original equipment suppliers, such as tyre manufacturers. Conti's decision to bring in the latest DIL simulation technology is informed by the need to mirror its OEM customers' development processes, but the system's most important effect will be the efficiency benefits it delivers, as Dr. Boris Mergell, head of research and development of the Tires business area at Continental, explains. "Developing and testing premium tyres is a highly complex, time-intensive process. By using the new dynamic driving simulator, we will make this development process even more efficient in the future."
Ansible Motion's Delta S3 has increased motion space and higher resolution over previous models. As a result it can benchmark tyres accurately in a virtual world, meaning the S3 will enable Continental's engineers to repeatedly and consistently test tyres across a range of virtual terrains, locations, scenarios and seasons. The simulator will support the company's goal is to be the most progressive tyre manufacturer in terms of environmental and socially responsible business practices by 2030, with the aim to reduce real world testing by up to 100,000 kilometres per year and use 10,000 fewer tyres for development.
Dr. Mergell continues: "We want to actively shape the virtual development process in the automotive industry in the tyre sector as well. The new simulator combines state-of-the-art technology with the vast experience of our professional test drivers. Continental is one of the pioneers in the use of this innovative, hybrid test technology."
Delta S3 from Ansible Motion
Ansible Motion's Delta S3 utilises highly immersive simulation motion and vision systems to develop and validate an increasingly complex mix of powertrain, safety and driver technologies. The third generation Delta DIL is the latest model in its 10-year history. The company will announce further orders ahead of production commencing in Q4 2021.
Within Continental's R&D department, Ansible Motion's Delta S3 simulator will support the next generation of virtual objective and subjective testing needed for its OE car and commercial vehicle tyres. With the ability to test and validate considerably more iterations of compound and construction, the speed and accuracy of using a high-fidelity simulator enables Continental's engineers to find better solutions to improve grip, wear and fuel efficiency, all in a more sustainable way.
For tyre development applications, the new Delta S3 platform ensures motions can be sustained for longer durations, guaranteeing more realistic experiences such as two-lane car manoeuvres, tight and long cornering, as well as driving on different surfaces and in a multitude of weather scenarios. Thanks to its ability to accelerate and change direction quickly, the S3 is ideal for both subjective and objective ride and vehicle dynamic testing of electric, hybrid and internal combustion powertrain vehicles, and all while satisfying the response time demands of professional development drivers.
"For passenger and commercial vehicles, tyres are the components that connect the driver to the road. Developments in simulation and modelling are enabling tyre manufacturers to quickly assess multiple iterations of their products in the simulator – many more than you could attempt in real-world testing," says Kia Cammaerts, founder of Ansible Motion. "Our DIL simulator enables tyre engineers to be more creative, unlocking the key performance differentiators of grip, wear and low rolling resistance, in a more sustainable way."