Kumho Tyre extends Tottenham Hotspur partnership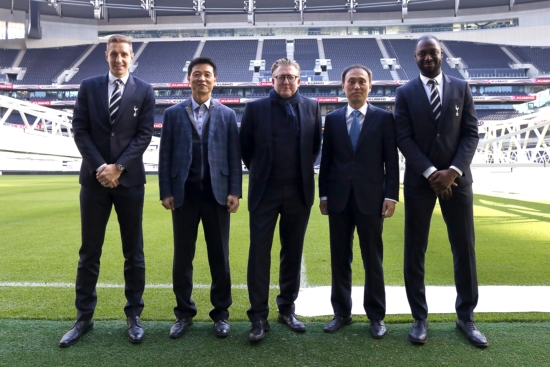 Tottenham Hotspur and Kumho Tyre agreed to a "long-term extension" of Kumho's position as the premier league football club's Official Tyre Partner at a signing ceremony at the Tottenham Hotspur Stadium recently.
Executive vice president of sales – Europe at Kumho Tyre, Namhwa Cho, and senior vice president of global marketing at Kumho Tire Co., Inc, Tony Gang-Seung Lee, met with club ambassadors, Ledley King and Michael Dawson, operations and finance director, Matthew Collecott and other club officials to formally celebrate the extension agreement.
The new agreement between the Club and the Korean tyre brand continues a successful partnership that began in 2016. Through the renewed partnership, Kumho Tyre will continue to present the Club's popular matchday player mascot programme, which was replaced with an award-winning digital offering for young fans during the COVID-19 pandemic. In addition, Kumho Tyre will continue to have a prominent presence on the in-stadium LED advertising system to help grow awareness of the brand through the Club's global reach.
Tottenham Hotspur will also support Kumho Tyre's Corporate Social Responsibility programmes by creating player-related content that focuses on tyre safety, as well as other co-created digital campaigns to drive fan engagement.
Todd Kline, chief commercial officer of Tottenham Hotspur, said: "We have built a fantastic relationship with Kumho Tyre over the last five years. We look forward to continuing to help elevate the Kumho Tyre brand and business through our growing global fanbase with a series of exciting collaborations."
"Kumho is thrilled to continue its partnership with Tottenham Hotspur, a renowned club in the world-famous English Premier League," said Tony Lee. "We will use this extended partnership to enhance our brand recognition in global markets including the United Kingdom and engage in efforts to turn our business into a premium brand."
Catalina Kim, CEO of Catalina and Partners Ltd., which has been responsible for this deal since the outset on behalf of Kumho Tyre and Tottenham Hotspur, added: "We are delighted to see the continued success of this relationship. We look forward to collaborating with both partners."