Data quality of 'strategic significance' for brake maker TMD Friction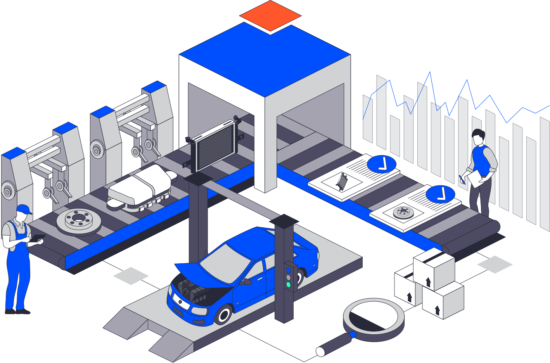 Such is brake manufacturer TMD Friction's emphasis on the strategic significance of its data quality, for more than over 10 years it has taked a specialised data team to continuously improving product and catalogue data. To this end, TecAlliance supports TMD Friction in ensuring that optimal product and catalogue data is available at points of service worldwide, supporting sustainable business success. As a founding member and shareholder of TecAlliance, TMD Friction relies on the know-how and support of TecAlliance teams worldwide for optimal data management.
TecAlliance works continuously with industry partners to improve data quality in the TecDoc Catalogue, the world's leading aftermarket catalogue with more than 800 brands. The TecDoc standard has been recognised worldwide for over 25 years because it ensures the highest data quality, comparability, efficiency and transparency in the global automotive aftermarket.
To be successful in the automotive aftermarket, replacement parts manufacturers must ensure that customers at points of service (PoS) have access to up-to-date and correct product information at all times. Customers have a positive shopping experience when they can reliably and quickly identify the right product based on the available catalogue data.
In his role as vice president at TMD Friction, Marco Loth is responsible for category management, global data management, pricing, sourcing and engineering. In addition, as Commercial Director MEAAP, he manages sales in the Middle East, Africa and Asia-Pacific. "Data quality is the guarantee of all important processes for TMD Friction. For this reason, it is a very important area, in which we have invested heavily in recent years. Catalogue data quality is an important means for us to communicate with our customers," explains Loth.
"It is important for us to make it as easy as possible for our customers. The customer should be able to enter his data or vehicle into the catalogue or database, for example, and identify his parts directly. In this way, we want to ensure that, on the one hand, the selection for the customer is reduced as much as possible so that he can assign the parts precisely. On the other hand, we want to avoid customers ordering several parts because they are not sure which is the right one. Then they have to send back the parts that do not fit. This is time-consuming for the customer and causes unnecessary costs for both him and us. Thanks to high data quality, a workshop can always offer its customers the right part and install it quickly in the respective repair job. This affects the workshop's perceived quality," says Loth.
TMD Friction has been focusing on the establishment of regional sales teams, production and warehouse facilities since 2016. The increasing complexity due to different standards, market conditions and customer requirements required adjustments in data management at TMD Friction, among other things.
"We used to look at data at the level of Central Europe. Today, we collect data worldwide, which of course presents us with new challenges," explains Loth. "For example, in China or Brazil, there are different vehicles in circulation compared to Europe. There are different conditions, a different way of communicating with the market. The whole world of data has become more complex and global for us in recent years. Our teams are now not located only in Europe but are spread all around the world."
A branch office in every country with more than 10 million vehicles
In order to accompany parts manufacturers and dealers across borders in their digitisation, TecAlliance plans to establish a branch office in every country with more than 10 million registered vehicles. The local data experts ensure optimal support and assist customers with international business development.
In China, for example, WeChat is by far the most popular mobile app. In addition to a chat function it includes its own web browser, a mobile payment system and numerous other functions. A WeChat profile is more important for companies there than their own website. In order to meet customer requirements, the TecAlliance office in Shanghai introduced the TecAlliance WeChat Catalogue in 2017. Based on this, an individual WeChat catalogue solution was developed for TMD Friction so that customers can quickly and conveniently identify the right replacement part.
"We wanted to understand exactly what Chinese customers needed in their catalogue. That's why we worked with TecAlliance China to develop the presentation of our WeChat catalogue. Since we are represented in China by a local team (including various warehouses), we are able to fulfil customer requirements much better," Loth concluded.