TecAlliance offers tyre and TPMS data for fast fits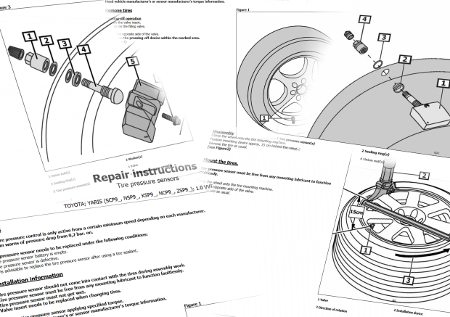 TecAlliance is encouraging fast fits and workshops active in the tyre fitting side of the service and repair business, to consider the TecDoc electronic parts data system alongside their existing resource information, to gain the widest possible access to comprehensive tyre information, via its 'Tyredata' option.
The Tyredata module is designed to impart a wide variety of replacement tyre information and has been developed to provide users with a single source electronic catalogue that would efficiently identify the original equipment (OE) tyre fitment for a specific vehicle for both passenger cars and commercial vehicles.
As a result, Tyredata users no longer need to thumb through the individual tyre manufacturer's catalogues or search their websites. Instead they can simply enter the vehicle make, model and year and the tyre size, and the precise specification of the tyre – including the speed rating – will be displayed alongside a choice of manufacturers that supply tyres of that size and specification.
Experienced tyre distributors may naturally already be linked into an internal system, but it is only likely to cross-reference data from their preferred tyre suppliers. It could still therefore sometimes be difficult for them to identify the correct tyre, which is why it is common practice to ask the customer to provide the details directly from the vehicle in order to provide an accurate quote. With Tyredata however, the source data comes from the tyre manufacturers that supply their tyres as OE fitment to the vehicle manufacturers, so the information is first rate.
As well as providing an accurate identification reference tool, the system also displays multiple suppliers, which means quick decisions can be made when it comes to sourcing the tyre required, which is always important for workshop customers as there are time considerations with every job.
Shaun Greasley, commercial director of TecAlliance UK and Ireland said: "What TecDoc offers is a cost-effective means to access accurate parts data without being limited to a handful of parts manufacturers. The addition of Tyredata allows an extension to this philosophy to a complementary product group, which means that businesses remain relevant in the market. In line with our other products, Tyredata is compatible with any computer system with an internet connection, so the technical content is accurate and is updated in 'real time'."
TPMS service speed is important
Now that tyre pressure monitoring systems (TPMS) are a legal requirement on new vehicles, TecRMI, the specialist repair and maintenance information arm of TecAlliance includes information concerning tyre pressure sensors for active and passive TPMS applications.
While passive TPMS technology does not utilise pressure sensors in the wheels to detect the actual tyre pressure and is mostly maintenance-free, changing the tyres and the tyre pressure sensors in the wheels of vehicles fitted with active TPMS technology requires care and precision from the tyre fitter, although both active and passive TPMS types must be reactivated after work is carried out on the wheel and tyre.
"Speed is so often the prime concern for workshops when changing tyres," Greasley continued, "but as more of the vehicles they are servicing will be fitted with TPMS, it is imperative that technicians have the information they need to reset or replace the components in the system to be able to complete the job successfully.
"It is very easy for errors to occur in hectic high pressure situations, so it's important that during installation great care is taken because a damaged sensor could easily cost £80. Therefore, in order to help technicians avoid these costly mistakes, the TecRMI portal provides users with access to detailed tyre change information and on the removal and installation of tyre pressure sensors, plus the subsequent reset details, for more than 8,600 vehicles. This covers almost all vehicles available in the European market as far as information on TPMS is concerned, and is another measure of the lengths that TecAlliance will go to improve the availability of valuable service and repair information to the independent sector."