2021 Tyre Industry Conference underway in Birmingham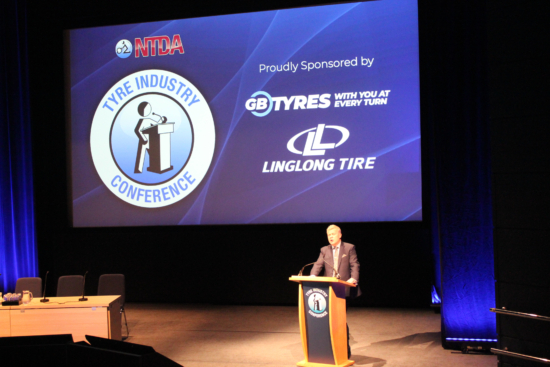 The 2021 Tyre Industry Conference is underway in Birmingham today after the pandemic caused a temporary break from the in-person event in 2020.  Proceedings began with NTDA chief executive, Stefan Hay introducing the event and speakers via a wide-ranging introductory speech covering: key worker lobbying, the importance of training and technicians and more.
Taking the initiative with training rather than poach staff from each other or waiting for government to do something is a priority, according to Hay. Recycling, sustainability and climate change also represent an area in which collaboration is needed.
Representing event sponsor GB Tyres Ltd, company managing director Sukhi Singh took to the stage to thank NTDA members and wish those in the business the best as we traverse the adverse circumstances we find ourselves in.
National chairman, Martin O'Brien then took to the stage, sharing details of some of the association's recent successes. Amongst these, NTDA efforts to bolster training are amongst the clearest. More than 7500 truck tyre technicians have been REACT accredited. That's 1500 up since 2019. 120 have passed the retail tyre technician standard.
The NTDA's support for the Wheelwright's charity continues, despite a reduced number of events for obvious reasons.
Anthony C Gruppo kick-started conference sessions themselves. "Change is for everyone, but evolution is for the motivated", the Marsh Commercial CEO began. "Impactful impatience is needed", Anthony C Gruppo continued, adding he call for fresh-thinking and to take advantage of what diversity has to offer:
We don't just need the CEOs we always had, the world is crying out for servant leaders. "Surround yourself with people who are different", Gruppo said, summarising: Diversity is not just a slogan, but rather a way of establishing diversity of thought.
The event, which is being held at the ICC in the centre of Birmingham, proceeds the well-known and popular Tyre Industry Awards, which take place in the evening.