Pirelli supplying bespoke tyres for NSX Type S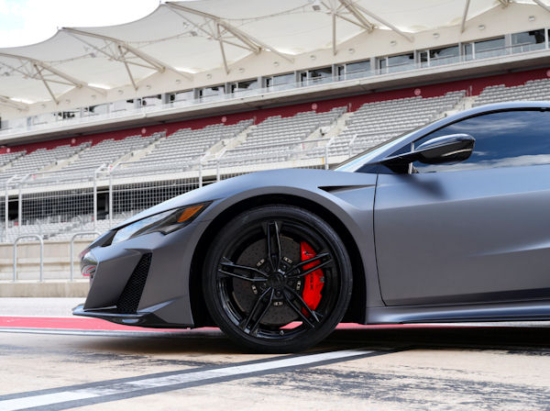 With an output of 592bhp, the Type S is the most powerful NSX to date. It's also the final version of the second-generation car, and Honda is producing just 350 specimens. Customers in the USA, where the car is known as the Acura NSX Type S, will receive 300 of these, with the remainder going to buyers in Japan and Central America. Pirelli is supplying tyres for the 2022 Acura NSX Type S.
For the development of these bespoke P Zero tyres, Pirelli technicians drew extensively from the experience gained in Motorsport, in particular Formula One. The tyre maker's engineers in fact made use of a state-of-the-art virtual modelling process, created for the development of track tyres and then translated to road use as well, to collect data and evaluate, via computer simulations, the various conditions of use and stress to which the tyres may be subject under different conditions. The result is tailor-made P Zero tires in 245/35ZR19 at the front and 305/30ZR20 at the rear.
Asymmetric tread, UHP compounds
Pirelli says the asymmetric tread pattern is one of the elements that contribute the most to enhancing the performance of the new NSX, providing excellent steering precision and high grip in wet and dry conditions. At the same time, Pirelli deployed an asymmetric mould profile on the rear tyre to provide high rear stability.
In addition to the work on the profile and the optimisation of the tread pattern, Pirelli technicians also worked on the tyre's construction, which includes high stiffness engineered for maximum performance levels and makes this tyre suitable for use on track as well.
Materials were another area where Pirelli focused its work to develop these tailor-made tyres for the NSX Type S: for this car, ultra-high-performance tread compounds were developed to promote high adhesion in wet and dry conditions and provide outstanding handling and braking performance. In particular, Pirelli compounders added grip enhancers used in motorsport applications to increase the adhesion characteristics of the tyre.
The Pirelli bespoke P Zero for the NSX Type S bears the 'H0' marking on the sidewall, indicating that they've been specially developed with Acura.