Hyundai chooses Pirelli for Kona N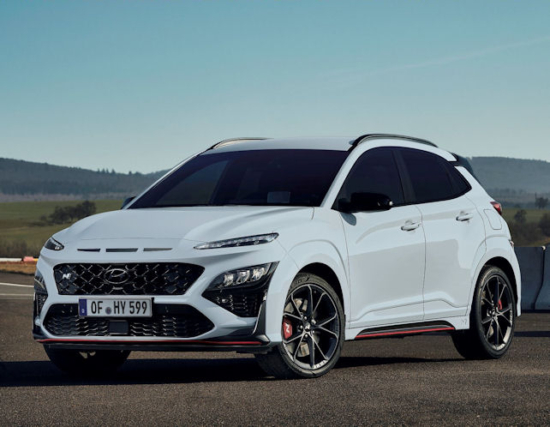 Pirelli has developed a version of its P Zero tyre specifically for the recently-launched Hyundai Kona N, the first SUV produced by Hyundai's sporting N division. The Kona N will wear Pirelli P Zero tyres in size 235/40R19 96 Y.
The tyre maker shares that its engineers developed this specific P Zero fitment to meet the requirements of Hyundai's engineers, enhancing the performance on track as well as in terms of safety, with driving pleasure on the road. This was achieved through tests conducted jointly by Hyundai and Pirelli on the Nürburgring, as well as on the Namyang track in Korea over the course of a year.
The result, says Pirelli, is bespoke P Zero tyre range with "low levels of road noise to maximise onboard comfort while making the most of each car's performance." Following its 'perfect fit' strategy, the tyre maker placed "the emphasis on performance without compromising driving comfort." It adds that there is "also an accent on safety thanks to excellent wet braking performance," which is confirmed by the tyre's EU label 'A' rating for wet grip. The tyre is marked 'HN' on the sidewall to denote that it's a Hyundai OEM tyre.
Pirelli & N division
In addition to the Kona N, Pirelli also supplies original equipment tyres to other cars in the N range, including the all-new Hyundai i20 N and the latest Hyundai i30 N, which also use the P Zero, respectively wearing sizes 215/40R18 89 Y and 235/35R19 91 Y.
"This reinforces the partnership between Pirelli and Hyundai, which began in 2016 with the supply of tyres for the Hyundai i30 Fastback N and the Hyundai Veloster N, which is mainly destined for the American market," comments Pirelli. "The use of Pirelli tyres for the Kona N once again underlines the close link between the Italian tyre manufacturer and the sporting mission behind Hyundai's N range, which now includes all of the Korean manufacturer's high-performance models available in Europe."
Namyang & Nürburgring
N stands for Namyang, the South Korean district that's the home of Hyundai's global research and development division, as well as the Nürburgring circuit where Hyundai maintains a technical centre. Hyundai put the Kona N through its paces at the German track. Pirelli comments that the 'N' logo on the car "recalls this sporting heritage" as it also resembles a chicane on a race circuit.