GitiWinterW2 delivers double-digit improvements over previous winter tyre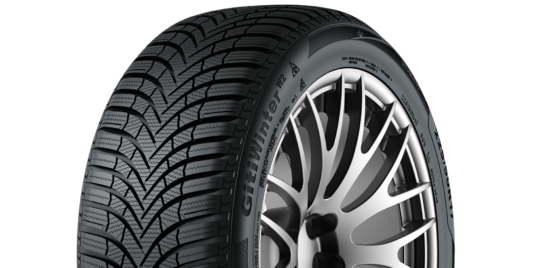 Giti Tire has launched its new winter tyre on the European aftermarket. The GitiWinterW2 delivers improved dry dynamics, wet braking and aquaplaning resistance, the manufacturer states, while snow and ice grip and traction are maintained from the first edition. The tyre is available initially in 13 car and SUV sizes, including the 10 most popular in the European market, for rims between 15 and 19-inches. Giti adds that extra sizes will be introduced in 2022. The tyre targets a wide range of vehicles, from small and medium cars such as the VW Polo or VW Golf up to premium limousines such as the Mercedes C Class. CUV and SUV sizes are designed to be fitted on popular models like the Nissan Qashqai and VW Tiguan.
Giti says that comparison tests against the GitiWinterW1 show that the GitiWinterW2 has improved aquaplaning resistance by 30 per cent, wet braking by 14 per cent, dry handling by 10 per cent, and dry braking by 8 per cent. It adds that these improvements were achieved without compromising the original tyre's level of snow and ice performance, fuel efficiency, and low noise. The tyre was designed using AdvanZtech, Giti Tire's globally-integrated, company-wide R&D system.
Key product design features include a redesigned direction tread pattern to optimise dry, wet and snow performance and an advanced tread compound with new functional polymer to improve grip.
An updated shoulder block with advanced tie-bar design improves control and an optimised pitch ratio delivers quietness and comfort. As is compulsory in a European winter tyre, every tyre in the range carries the Three Peak Mountain Snowflake (3PMSF) symbol.
"No matter what your driving style, the GitiWinterW2 will deliver a great driving performance in all winter conditions," said Fabio Pecci-Boriani, senior product manager PCR, SUV, Light Truck for Giti Tire (Europe). "To be able to maintain the original tyre's excellent snow and ice performance while substantially improving all other dry and wet characteristics is nothing short of remarkable.
"Our tests show a level of driving performance which in most aspects are close, and in some areas surpass, those of the top-tier manufacturers all while keeping our competitive mid-market price point.
"The second generation of Giti passenger car and SUV patterns, including the GitiWinterW2, the summer premium performance GitiSportS2 UHP, the high-performance GitiSynergyH2 and the low rolling resistance GitiSynergyE2 now form the basis of a fantastic portfolio. Dealers and drivers can all benefit from this amazing brand."
The GitiWinterW2 was designed and engineered at Giti Tire's European Research & Development Centre in Hannover, with testing at the company's Mira facility in the UK as well as key locations in Germany and Finland.