Dealers test latest GT Radial tyres in first Mira Ride and Drive for two years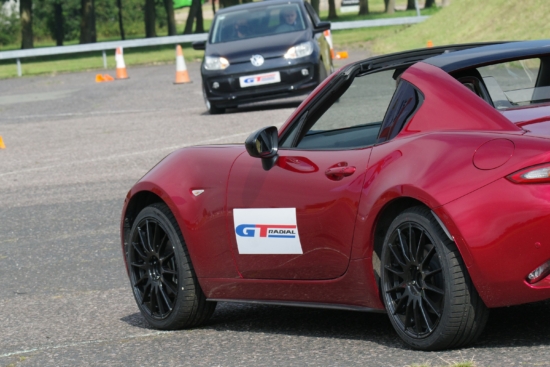 80 guests became the first European customers to test drive the new GT Radial SportActive 2 and FE2 at GT Radial's first Mira Drive and Ride event for almost two years. Potential new dealers, supported by select GT Radial Performance Centre (GTPC) owners, got back on track under Covid secure conditions over two days, during which GT Radial's exclusive UK distributor over the last decade, Micheldever Tyre Services (MTS), presented the brand's product portfolio. All attendees were invited to experience high speed circuits in the new BMW 5 Series of Giti Tire's country manager – UK, Brian McDermott who put his own car on the redline.
Afterwards everyone got behind the wheel of a VW Golf GTI or Type R for the high-speed handling circuit and a BMW 1 Series for wet circles and wet handling. To show the high-end performance capabilities of all Giti Tire products everyone was offered a thrill ride in the VW Fun Cup car – which on day two was driven by 23 times Isle of Man TT winner John McGuiness – or the 1,000BHP Giti MAN TGX British Truck Racing Championship unit.
Brian McDermott said: "I genuinely can't tell you how fantastic it was to get everyone together, talk about our incredible global heritage, our amazing relationship with MTS and then get back out on the MIRA circuits where our tyres' performance speaks volumes."
Dean Andrews of Steve Andrews Tyres said: "Thanks for the opportunity to give GT Radial a run for their money on the various tracks at MIRA. We thoroughly enjoyed ourselves and have come away with product knowledge and confidence in the GT Radial brand."
'The GT driving day was absolutely brilliant," added Shaun Peaty, service manager for W R Davies Nissan. "Given it was organised in such a short time the staff were great and it was interesting to see the performance of the tyre in different circumstances."
Graham Mitchell, wholesale sales director for MTS, concluded: "A great event that gave customers a chance to experience GT Radial's qualities for themselves across a range of conditions, creating high levels of engagement and new demand for the product."