Looting: Dunlop South Africa looses 90 million rand of tyre stock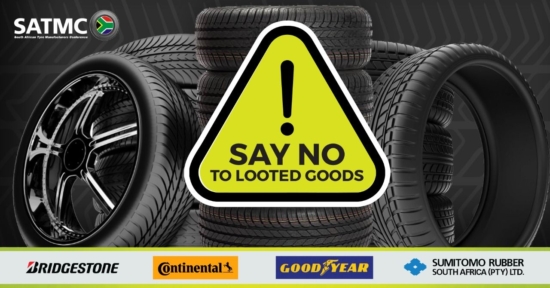 Amidst widespread economic and political unrest in South Africa, local tyre manufacturers have experienced significant disruption and even looting. Specifically, the Dunlop South Africa (formally Sumitomo Rubber South Africa Pty Ltd – SRSA) Durban Westville warehouse was "invaded" by trespassers and looters resulting in the loss of 90 million rand (£4.533 million; 5.255 million euros; US$6.190 million) of tyre stock. Such is the scale of the problem, the local tyre industry has embarked on a "say no to looted goods" campaign.
Video footage of looters moving freely through Dunlop's Durban warehouse has been widely distributed online. The pictures show looters scaling tyre racking and dropping what appear to be 4×4 tyres to the ground from height. However, company representatives report that a wider range of products were stolen and that, since the depicted incident on 11 July, much of the stolen passenger car and motorcycle tyre stock is now being sold online.
Lubin Ozoux, chief executive of SRSA, commented: "The loss in stock and assets is estimated to be approximately 90 million rand. However, there will be a substantial impact not only for the Dunlop business but for the entire value chain, including employees, the community and the supply chain.
"We strongly condemn these illegal actions. Looted commodities are being offered at prices much lower than the normal pricing on numerous social media posts. This is a clear indication that these items have been looted. We do not support, under any circumstance, the purchase of goods from anyone other than reputable manufacturers and suppliers," he continued, adding:
"Thieves prey on people looking for the best price. At a time that there is such a large volume of illegally obtained goods now circulating in the market, people will need to have their wits about them to ensure they do not indirectly support this thievery".
But the disruption on the tyre market appears to have spread wider than Dunlop South Africa alone. Commenting on behalf of the association's member companies, Nduduzo Chala, managing executive of the South African Tyre Manufacturers Conference (SATMC) said SATMC condemned "the looting and vandalism witnessed last week across the country".
His statement, published on 19 July 2021, continued: "The acts have had a damaging impact for the tyre sector and as the SATMC, we stand in support of our members, Bridgestone SA, Continental Tyres SA, Goodyear SA and Sumitomo Rubber SA.
"We urge South Africans not to support the purchase of looted tyres and call upon all fitment centres to not fit loose tyres without a valid proof of purchase. As the tyre sector value chain, let us stand together and assist build our country the right way."