SUV boom brings technology opportunities for Goodyear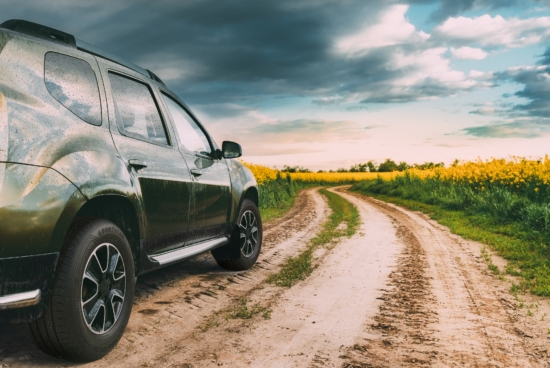 Goodyear EfficientGrip 2 SUV tops leading magazine test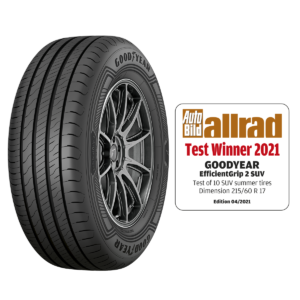 Three of the top ten best-selling cars in Europe are SUVs. The growth of this market is such that the meaning of the terms has come to encompass a broad range of vehicle applications. Broadly though, a motorist can expect an elevated driving position, hatchback practicality mixed with some degree of all-terrain ability, and rugged looks. Handling a wide range of conditions and environments is a big part of their appeal, meaning tyre technology in the SUV segment needs to support these applications, as as Thomas Gesenhoff, technical project manager at Goodyear, explains.
"Tyres such as our Goodyear EfficientGrip 2 SUV are specially designed for these vehicles," he says. "We take a different design approach to conventional car tyre development. SUV tyres need to be more robust and versatile but still deliver the dynamic feel and performance demanded by drivers moving from saloons and hatchbacks.
"The stronger sidewall and belt material in the construction not only helps longevity, but it also provides precise steering and dynamics. This is important in a vehicle that has a higher center of gravity than a regular car. To help cope with the additional weight of an SUV, tyres are typically larger giving a greater air volume. To provide all-terrain versatility, the increased size of an SUV tyre provides more gripping edges. This also gives a thicker layer of more robust lower rubber, which combined with a ply cover that's twice as strong as the car tyre gives SUV drivers the durability they demand"
The all-purpose versatility of SUVs and Crossovers means owners expect them to cover everything from business to family and leisure duties. This results in consumers demanding higher mileage tyres and Gesenhoff explains how Goodyear met these challenges: "The EfficientGrip 2 SUV has a 25 per cent improvement in mileage versus its predecessor [the EfficientGrip SUV, according to internal estimates], thanks to Goodyear's mileage plus technology, which offers high tread elasticity and flexibility, resulting in less fractures from rough road conditions over a wide range of temperatures."
Click here for a rundown of the top rated SUV tyres on the market at the beginning of 2021 by Tyrepress's tyre comparison site, WhatTyre.
Test wins validate approach
Goodyear's focus on developing distinct designs and technologies for SUV tyres is validated by one recent comparison of ten SUV tyres. Auto Bild Allrad magazine declared the Goodyear EfficientGrip 2 SUV its test winner after proving its performance on wet and dry roads as well as the type of off-road surfaces such as sand, gravel, grass, and mud that the typical SUV driver will encounter. The 96V tyre was tested in size 215/60R17 on a Jeep Renegade versus nine other tyres: Michelin Primacy 4 96V, Bridgestone Turanza T005 96V, Continental PremiumContact 6 96V, Nokian Wetproof SUV 100V, Falken ZIEX ZE310 EcoRun 96V, Maxxis Premitra 5 HP5 96H, BF Goodrich Advantage SUV 96V, Toyo Proxes Comfort 100V, and Imperial EcoSport SUV 100V.
The Goodyear EfficientGrip 2 SUV was the only tyre in the Auto Bild Allrad test to score in the top band in each of the magazine's fifteen test categories. The testers particularly focused on EfficientGrip 2 SUV's outstanding wet braking performance. This comes from a high number of longer gripping edges combined with lower compound stiffness, which improves grip on wet surfaces. The larger ribs at the centre of the tread mean a greater contact area for short dry braking distances, too.
The off-road performance is particularly important for people who purchase SUVs for their towing ability. Many SUV drivers do not want the hardcore off-road performance of a traditional 4×4, Goodyear says. However, many do require traction when towing caravans or horseboxes on wet grass or gravel. That is where the versatility of a bespoke SUV tyre such as the EfficientGrip 2 SUV helps.
Goodyear's EfficientGrip 2 SUV is part of a growing range including the Eagle F1 Asymmetric 3 SUV for high-performance vehicles such as the Porsche Macan and Range Rover Sport, and the Eagle F1 Asymmetric SUV AT providing all-terrain and all-season ultra-high performance. With many electric vehicles adopting a higher SUV-style design, this is an important development area for Goodyear.
"Looking to the future, the SUV share of the overall car market will grow as manufacturers launch more new models in each size segment. For SUV drivers, it is important to ensure the dynamic versatility of the vehicle is enhanced by the capability of the tyres. That's why we are putting so much focus on the specific tyre needs of SUVs and Crossovers," concludes Gesenhoff.