Dunlop, Moto2 testing soft rear tyre at Jerez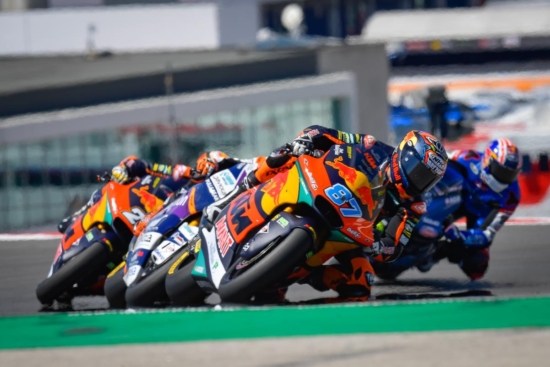 The FIM Moto2 World Championship's teams will be able to test Dunlop's new soft rear tyre during practice and qualifying at Jerez this weekend. Dunlop says the in-event test will help new riders and teams get accustomed to the softer end of the Dunlop Moto2 range, which hasn't been used since last October's Teruel Grand Prix. It will also provide Dunlop with data on how the Jerez surface has evolved since its resurfacing in 2018.
The medium specification tyre will be mandated during the race to avoid any advantage for riders running the development soft rear tyre in practice and qualifying. The medium tyre was used to set the Moto2 lap record at the Andalusian track and was unanimously chosen by all riders at Jerez in 2019 and 2020.
Stephen Bickley, staff engineer – Moto Track & Grand Prix, Dunlop: "Dunlop is committed to continually evaluating tyre suitability for every circuit on the Moto2 and Moto3 calendar. Various restrictions caused by the Covid-19 situation have limited how much testing was possible during the off-season, so we're taking the innovative approach of allowing all teams to test during race weekends. This is fairer for everyone and means no one team has a particular advantage. In a class as competitive as Moto2, it's important that we give all riders the opportunity to test our latest products, so we can continue to improve the tyre range.
"We're excited to see how the teams and riders react to the soft rear tyre. Our key objective of this test is to gather data, but the performance-focused specification could make practice and qualifying sessions even more exciting. We'll use the learnings from this test within a race weekend to inform the design and development of our range, as part of our commitment to continually improving our offering. The decision to mandate the medium rear tyre for the race means that the focus on Sunday will be on the rider rather than tyre management, with riders knowing that the medium tyre is more than capable of performing at a high level throughout the race distance."
In addition to the new Moto2 tyre, the Moto3 class will have access to a development front tyre for the second consecutive race. Introduced last time out at Portimao, this new front tyre will be available for selection during this weekend's race.