Goodyear invests further in autonomous mobility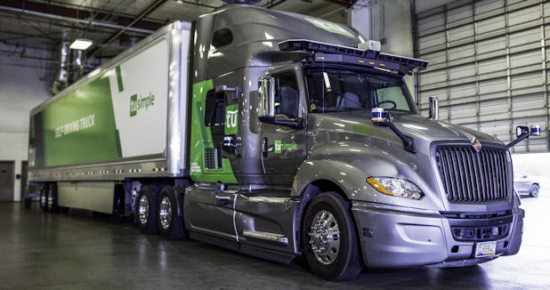 Goodyear has invested in a further autonomous vehicle firm through its Goodyear Ventures venture capital fund. The latest business to join Goodyear Venture's growing investment portfolio is TuSimple, a global autonomous trucking technology company that operates self-driving trucks out of its facilities in the USA, Europe, China and Japan.
TuSimple is developing a commercial-ready Level 4 autonomous driving solution to transform the logistics industry. Trucks equipped with TuSimple technology rely upon a navigational ecosystem made up of digital maps, strategic terminals and an autonomous fleet operations system.
Last year, Goodyear announced a strategic partnership to provide tyres and tyre management solutions to TuSimple's Autonomous Freight Network (AFN), the world's first autonomous network. As an AFN partner, Goodyear will conduct wear studies to better predict maintenance, understand tyre longevity and reduce the carbon impact of fleets.
"We are excited to build upon Goodyear's relationship with TuSimple through this investment," said Abhijit Ganguly, senior manager, Goodyear Ventures. "TuSimple's autonomous technology, combined with its vision of autonomous freight as a service, has the potential to create a lot of value in the commercial freight industry."
$100 million to invest
The Goodyear Tire & Rubber Company announced its creation of Goodyear Ventures at the start of 2020, sharing that it had earmarked US$100 million for new investments in future mobility solutions through the venture capital fund over the coming ten years.
Goodyear Ventures is focusing on eight themes shaping mobility: Electric and autonomous technologies; connected mobility solutions; next-generation public mobility; next-generation aviation mobility; future transportation infrastructure; future maintenance and operations; emerging technologies; new tyre materials.
In addition to receiving capital, the tyre maker says its Goodyear Ventures portfolio companies will gain the "opportunity to learn and grow with Goodyear through its extensive technology and innovation resources, vast vehicle service network, and global manufacturing and product development footprint."
Goodyear Ventures also recently added Starship Technologies to its investment portfolio. Starship Technologies builds and operates a network of self-driving robots that carry and deliver packages, groceries and food directly to customers.