Continental expected to outperform Q4 2020 estimates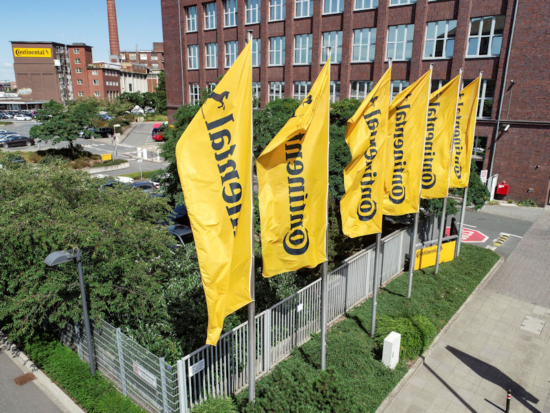 Despite the pandemic-led pressures of 2020, Continental AG will outperform the consensus of analyst estimates of its fourth-quarter 2020 financial performance, according to Jefferies Equity Research. Specifically regarding Continental AG's fourth quarter 2020 results, Jefferies estimate group adjusted EBIT of 3.3 billion euros compared to a consensus of 2.7 billion, implying their calculations are 21 per cent above consensus:
"We expect Conti to guide for 2-4 per cent outperformance in the Automotive business, in-line with comments from the Investor Day in December. We expect an Automotive margin guidance of 3-4 per cent."
Things are even better on the Rubber side of the business: "For Rubber, we expect top-line growth to be roughly in-line with end markets and a margin guidance of 12-13 per cent. For the group, we expect margin guidance of 6.5-7.5 per cent." The consensus is 6.4 per cent.
Writing in an investor's note dated 22 January 2021, Sascha Gommel, Philippe Houhois, Jimanshu Agarwal and Touiti Marie-Bornand added:
"We expect suppliers to beat Q4 consensus estimates across the board as light vehicle production came in ahead of expectations…In light of extended lockdowns, semiconductor shortages and rising raw material prices, company guidance will unlikely be above consensus across the board."
Nevertheless, their conclusion is that "Conti has the biggest positive surprise potential". And therefore they maintained their price guidance "buy", with a 155 euro price target, adding: "Consensus estimates for [the fourth quarter] but also 2021 and beyond looks significantly too low and valuation is undemanding."
In contrast, the Jefferies analysts own estimates are between a fifth and a quarter higher than the market consensus: "We are 21 per cent/25 per cent above EBIT consensus for FY21/22. In addition, sentiment is still sufficiently negative with the lowest number of Buy ratings in the sector (together with Schaeffler).
Of course, tyre supply is closely connected to vehicle production. Jefferies' estimates are based on the most recent IHS forecast (01/2021). As far as fourth quarter 2020 figures are concerned, IHS estimates global light vehicle production to be +2.5 per cent year-on-year globally. This is an upgrade of 1.8 percentage points from the December forecast. All regions showed positive growth with Europe +1.3 per cent (up 1.6 percentage points), North America +0.5 per cent (up 1.3 percentage points) and China +5.9 per cent (up 2.6 percentage points).
One cloud on the horizon is semiconductor shortages. The shortage of electronic components is a risk to first quarter 2021 production and potentially also to the second quarter of 2021. Based on statements from OEMs (such as Volkswagen), there has already been an impact on shift schedules. However, the problem is less severe than feared as reports suggest potential lost production of 500,000 units which is around 2 per cent of global production (or 0.6% on a full-year basis).
"We understand that OEMs prioritize models with higher profitability which would imply higher content for suppliers, there could be an offsetting factor to the negative volume impact. Valuation: The re-rating that we have seen during fourth quarter of 2020 has stopped towards the end of the year and earnings estimates have started to catch up…", the Jefferies analysts explained, adding:
"With multiples well above historical averages, share price upside needs to come from earnings upgrades going forward, in our view. We adjusted our estimates and price target across our coverage to reflect the most recent low value position forecast and peer multiples".
Still market watchers are as positive as they have been about Continental's shares for a year. Indeed, consensus buy ratings are close to a 12 month high, with 45 per cent of analysts rating Conti stock as "buy" compared to 29 per cent a year ago. Meanwhile, both Continental and Schaeffler shares are amongst the least preferred stocks on the sell-side (33%).