Tyre particulate solution wins James Dyson Award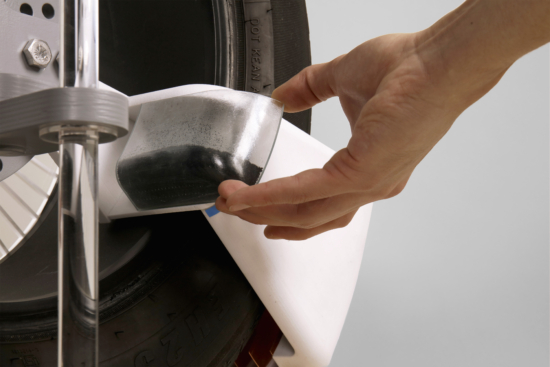 The Tyre Collective – winners of the James Dyson Awards 2020 – have designed a device to capture tyre particulate at source. According to the UK Department for Environment, Food & Rural Affairs' "Air Quality: Brake, Tyre and Road Surface Wear" report, tyre-wear accounts for nearly half of road transport particulate emissions. Furthermore, a reported half a million tonnes of tyre particles are produced annually in Europe alone, from vehicles accelerating, braking and cornering. As we move towards electric vehicles in the future, exhaust emissions will reduce but tyre particles will continue. The Tyre Collective estimate that tyre emissions may even increase, as electric vehicles become heavier due to the added battery weight. For both reasons, this year's UK national James Dyson Award winners attempt to address this issue (click here for an overview of the latest tyre wear particular research).
The Tyre Collective aims to reduce particulate via a device fitted to the wheel, which uses electrostatics to collect particles as they are emitted from the tyres. By taking advantage of various air flows around a spinning wheel, they claim that their prototype can collect 60 per cent of all airborne particles from tyres, under a controlled environment on their test rig.
Once captured, the particles can be recycled and reused in new tyres or other materials such as ink. The Tyre Collective has demonstrated this by printing their business cards using ink made from collected tyre matter. Other creative applications include 3D printing, soundproofing or even in new tyre production, creating a closed loop system.
The creation of a team of design students
The Tyre Collective is made up of students from the Innovation Design Engineering MA/MSc programme, offered jointly by Imperial College London and the Royal College of Art. Siobhan Anderson, Hanson Cheng, M Deepak Mallaya, and Hugo Richardson came together through a passion to try and design for real social and environmental impact.
Hugo Richardson commented: "As a team, our strength lies in our diversity. We come from all four corners of the globe and bring with us a wealth of knowledge in Mechanical Engineering, Product Design, Architecture and Biomechanics. We are passionate about the environment and trying to make a meaningful impact on society. It's common knowledge that tyres wear down, but nobody seems to think about where it goes, and we were really shocked to discover that tyre particles are the second largest microplastic pollutant in our oceans. At the Tyre Collective we incorporate sustainable and circular values into product design to capture tear wear at the source."
In response to winning the James Dyson Award, Siobhan Anderson continued: "We were so thrilled when we found out we'd won the national James Dyson Award. It definitely gives us some validation that our design and concept is something that has real world tangible benefits. We're excited about having the backing of such a prestigious award and we're looking forward to continuing this journey and developing our innovation further."
This year marked the 16th year of the James Dyson Award, and the 16th year of championing ground-breaking concepts in engineering and design. This year, the award has also seen its highest number of entrants in the Award's history across all 27 participating nations.
Sophie Thomas, Circular Economy Specialist and judge on this year's panel says: "We were unanimously drawn to The Tyre Collective for their creative innovation around this urgent issue of microplastic shedding from tyres. This collaborative, multi-disciplinary team questioned and challenged, building an approach that demonstrates the crucial role of design and enquiry when we search for solutions to these global problems."
Winning the national leg of the James Dyson Award will inject £2,000 into The Tyre Collectives project. The team aim to commercialise their invention sustainably, using the award money for further research into how their invention can become a global solution to capture tyre wear at the source and prevent it from polluting the wider environment.
The Tyre Collective will progress to the international stage of the James Dyson Award. In the interim, the team are working on securing a patent for this winning design, as well continuing with the Innovation RCA incubator and are continuing the project as a start-up. International prizes will be announced on 19 November 2020.