Yokohama remains profitable in 1H 2020, despite coronavirus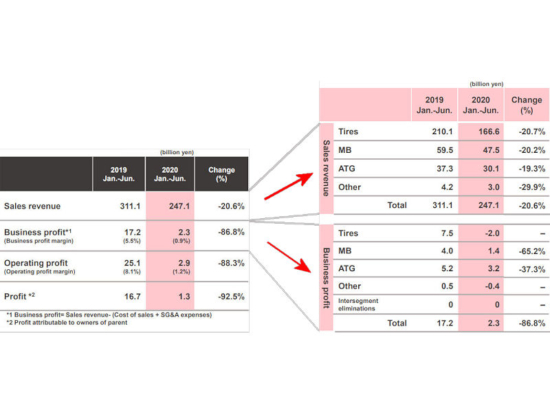 The Yokohama Rubber Co., Ltd's first half 2020 profit might have declined 92.5 per cent compare with the same period of the previous year to 1.3 billion yen (£9.321 million; 10.322 million euros, US$12.220 million), but the company did remain profitable as all tyre manufacturers have faced serious headwinds due to coronavirus. Operating profit fell 86.8 per cent to 2.9 billion yen. And salves fell 20.6 per cent to 247.1 billion yen.
According to the company, resilience in Yokohama's MB (Multiple Business) and ATG (Alliance Tire Group) segments offset the red ink incurred in the wider Tires segment amid the COVID-19 pandemic.
In Yokohama's Tires segment, sales revenue and business profit declined from the same period of the previous year. The decline in business profit reflected a downturn in unit sales volume, an upturn in unit costs associated with reduced production volume, and inventory-disposal costs associated with a product recall in North America in the fiscal first quarter.
As a result of the pressures it is facing, Yokohama has revised the full-year fiscal projections for 2020 that it announced in February. The revised projections call for profit attributable to owners of parent to decline 70.2% per cent to 12.5 billion yen, on a 65.8 per cent decline in operating profit, to 20.0 billion yen. Compared with the earlier projections, these projections are 67.1 per cent lower for profit attributable to owners of parent, 63.3 per cent lower for operating profit and 18.8% lower for sales revenue.
The company declared a dividend of 32 yen per share for the first half of 2020, and management plans to propose a year-end dividend of 32 yen. That would result in an annual dividend of 64 yen per share, as projected by the company in February.