Toyo 2Q operating income down 48%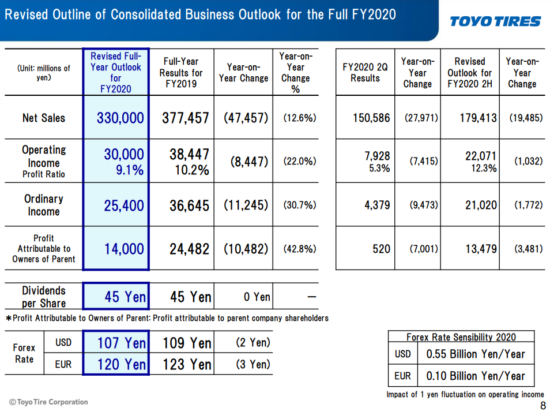 Toyo Tire Corporation reported net sales of 150,586 million yen (£1.1081 billion; 1.195 billion euros; $1.414 billion), a decrease of 15.7 per cent compared with the same period in 2019. Operating income, which amounted to 7,928 million yen (£59.923 million; 63.027 million euros; $74.443 million), down 48.3 per cent on 2019, was hit worst.
For its part, the Tire Business unit posted net sales of 134,430 million yen (£965,207; 1.068 million euros; $1.262 million), down 13.6 per cent on 2019. Tire Business operating income in the same period was 9.733 billion yen (£69.882 million; 77.377 million euros; $91.392 million), down 39.6 per cent on 2019. When compared with the Automotive Parts Business's operating loss of 1,805 million yen (a decrease of 1,049 million on 2019), it is clear that Toyo's tales sales have proved more resilient.
Looking forward, Toyo predicted that it would finish 2020 with a 12.6 per cent decrease in overall net sales and a profit ratio of 10.2 per cent. In doing so, the company is expecting a significant improvement in the second half of 2020.